---
Join our list
Subscribe to our mailing list and get interesting stuff and updates to your email inbox.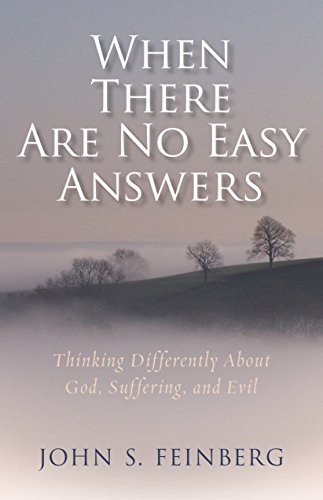 Author(s):
John S. Feinberg
Publisher:
Kregel Publications
Price:
$2.99
(Apr 24-25)
How can a God of love allow terrible things to happen in our lives?
Christians often assume they're equipped to deal with tragedy if it enters their lives, but like most people, think it never really will. What happens, then, when we follow God's will to the best of our abilities and heartbreak strikes? Do we mean it when we implore "Have Thine own way, Lord" or does that only apply in times of blessings or small, manageable hurts?
John Feinberg knows that conundrum intimately. In 1987 his beloved wife was diagnosed with an incurable, genetically transmitted disease. They were immediately challenged in their faith and their approach to God's goodness in the face of the evil of suffering. More, they discovered just how little their Christian community understood about how to support people in crisis.
When There Are No Easy Answers considers the problem of grief from every angle, just as the Feinbergs walked through it in their journey. It confronts the question of justice, examines the nature of God, and argues for the reality of grace. Feinberg explores the biblical reasons against the use of traditional clichés and platitudes, especially by those in ministry, and lays out alternatives that can actually comfort and encourage the person who is struggling or grieving.
---
In this grab bag we have 5 e-books from Harvest House which were on sale in celebration of Mother's Day. The prices and sale dates that the publisher has provided are under each ebook cover.
[table "4293" not found /]
---
Author(s): Robert D. Lupton
Publisher: HarperOne
Price: $1.99

The veteran urban activist and author of the revolutionary Toxic Charity returns with a headline-making book that offers proven, results-oriented ideas for transforming our system of giving.
In Toxic Charity, Robert D. Lupton revealed the truth about modern charity programs meant to help the poor and disenfranchised. While charity makes donors feel better, he argued, it often hurts those it seeks to help. At the forefront of this burgeoning yet ineffective compassion industry are American churches, which spend billions on dependency-producing programs, including food pantries. But what would charity look like if we, instead, measured it by its ability to alleviate poverty and needs?
That is the question at the heart of Charity Detox. Drawing on his many decades of experience, Lupton outlines how to structure programs that actually improve the quality of life of the poor and disenfranchised. He introduces many strategies that are revolutionizing what we do with our charity dollars, and offers numerous examples of organizations that have successfully adopted these groundbreaking new models. Only by redirecting our strategies and becoming committed to results, he argues, can charity enterprises truly become as transformative as our ideals.
---
Author(s): Malcolm Watts
Publisher: Reformation Heritage Books
Price: $2.99

"A true church, Reformed according to God's Word, is the dwelling place of God, maintaining and declaring the truth which He has been pleased to reveal," writes author Malcolm Watts in What Is a Reformed Church? Watts then looks specifically at the basics of the Reformed faith and explains, both biblically and historically, the distinctives of a Reformed church, its doctrines, and its practices in worship, church government, church discipline, and evangelism. For both believers who are just discovering the Reformed faith and those who need to be reminded of its distinctives, this handbook offers readers solid answers to the question of what it means to be Reformed.
Table of Contents:
The Distinctives of a Reformed Church
The Great Emphasis of Reformed Doctrine
A Right View of Worship
The Government of the Church
Reformed Church Discipline
Reformed Evangelism
Maintaining the Reformed Faith
Author:
Malcolm H. Watts is minister of Emmanuel Church in Salisbury, England. He is also the chairman of the Trinitarian Bible Society and the Bible League Trust, as well as a visiting lecturer at Puritan Reformed Theological Seminary.
Endorsements:
"These days the term Reformed is applied to many beliefs and practices that are not Reformed. Malcolm Watts offers a wonderful guide so that the uninitiated can know what the historic Reformed faith looks like in doctrine and practice. This book, however, is also a terrific aid for the well informed as a reminder and index of classic Reformed theology—biblical, confessional, and practical." – J. V. Fesko, Academic Dean and Associate Professor of Systematic and Historical Theology, Westminster Seminary California
"Finally—a sound, concise yet meaty little book on the basics of the Reformed faith, Reformed ecclesiology, and Reformed evangelism. Malcolm Watts's What Is a Reformed Church? is an excellent work for those just discovering the Reformed faith as well as for those who are more advanced but need to be reminded of its distinctives. Ministers would do well to urge their consistories or sessions to provide a copy for every church member or family. Its biblical content, sanctified scholarship, challenging insights, and warm pastoral applications are just what the church needs today. I know of no better basic Reformed handbook for believers." – Joel R. Beeke, President and Professor of Systematic Theology and Homiletic, Puritan Reformed Theological Seminary
---
Author(s): Keith Craft
Publisher: HarperOne
Price: $1.99

Discover the key to all your future success and achievement, and learn that what makes you different, makes you great.
According to science, 99 percent of our DNA sequence is the same as other humans. Pastor Keith Craft believes that the 1 percent difference in each of us is a type of glory that God has given us.
Within the pages of his motivational and inspirational self-help book, Your Divine Fingerprint: The Force That Makes You Unstoppable, are the tools to help you discover a unique fingerprint that you have been given. These tools will help you deploy your unique difference that your family needs, your marriage needs, your job needs, your faith needs—that the world needs. And when you embrace and live in that uniqueness, you celebrate the glory of God.
---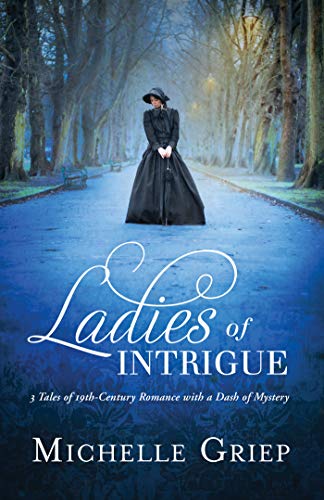 Author(s): Michelle Griep
Publisher: Barbour Books
Price: $4.99 (Ends Apr 30)


3 Page-Turners Under One Cover from Reader Favorite Michelle Griep!
Can truth and love prevail when no one is as they appear?
The Gentleman Smuggler's Lady
Cornish Coast, 1815
When a prim and proper governess returns to England from abroad, she expects to comfort her dying father—not fall in love with a smuggler. Will Helen Fletcher keep Isaac Seaton's unusual secret?
The Doctor's Woman (A Carol Award Winner!)
Dakota Territory, 1862
Emmy Nelson, daughter of a missionary doctor, and Dr. James Clark, city doctor aspiring to teach, find themselves working side by side at Fort Snelling during the Dakota Uprising. That is when the real clash of ideals begins.
A House of Secrets
St. Paul, Minnesota, 1890
Ladies Aide Chairman, Amanda Carston resolves to clean up St. Paul's ramshackle housing, starting with the worst of the worst: a "haunted" house that's secretly owned by her beau—a home that's his only means of helping brothel girls escape from the hands of the city's most infamous madam.
---
Author(s): Valorie Burton
Publisher: Waterbrook Press
Price: $1.99 (Ends May 5)


Has the unexpected knocked you off course? You lost your job to the latest round of layoffs. A relationship you thought would last forever, didn't. A health challenge is disrupting your life. Life doesn't always go according to plan, but with the right attitude and skills, you can persevere through even the toughest situations—and emerge stronger and better than ever.
Resilience to Get Through Any Challenge
In Where Will You Go from Here? Valorie Burton helps you navigate life's obstacles and unexpected challenges. You'll find all the tools you need to be resilient in the face of setbacks, now and in the future, including:
· The Five Commitments that propel every successful comeback
· Step-by-step guidance for restructuring your life
· Strategies to unearth the courage you need for any situation
· In-the-heat-of-the-moment words to combat negative thinking
· Practical exercises to become better, not bitter, as a result of adversity
Packed with uplifting insights and powerful principles, this personal coaching resource offers the wisdom and encouragement you need to think differently about your circumstances and take hold of the lessons God is offering you. As you experience the "post-traumatic growth" that comes only through adversity, you'll be equipped to unleash a stronger, more authentic you.
---
---
Gospel eBooks is a participant in the Amazon Services LLC Associates Program, an affiliate advertising program designed to provide a means for sites to earn advertising fees by advertising and linking to amazon.com. View our
Privacy Policy
.