---
Join our list
Subscribe to our mailing list and get interesting stuff and updates to your email inbox.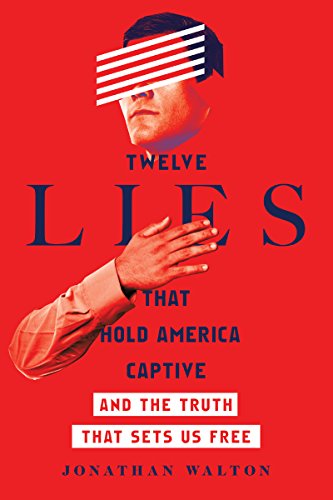 Author(s): Jonathan P. Walton
Publisher: Intervarsity Press
Price: $4.99 (Ends Apr 30)


"America is a Christian nation."
"All men are created equal."
"We are the land of the free and the home of the brave."
Except when we're not.
These commonly held ideas break down in the light of hard realities, the study of Scripture, and faithful Christian witness. The president is not the messiah, the Constitution is not the Bible, and the United States is not a city on a hill or the hope for the world. The proclaimed hope of America rings most hollow for Native peoples, people of color, the rural poor, and other communities pressed to the margins.
Jonathan Walton exposes the cultural myths and misconceptions about America's identity. Focusing on its manipulation of Scripture and the person of Jesus, he redirects us to the true promises found in the gospel. Walton identifies how American ideology and way of life has become a false religion, and shows that orienting our lives around American nationalism is idolatry. Our cultural notions of life, liberty, and the pursuit of happiness are at odds with the call to take up our cross and follow Jesus.
Ultimately, our place in America is distinct from our place in the family of Jesus. Discover how the kingdom of God offers true freedom and justice for all.
---
In this grab bag we have 4 fiction e-books from Baker Publishing. The prices and sale dates that the publisher has provided are under each ebook cover.
[table "4266" not found /]
---
Author(s): Erwin Raphael McManus
Publisher: HarperOne
Price: $1.99 (Ends Apr 30)


In The Artisan Soul, Erwin Raphael McManus, author, thought leader, and founder of MOSAIC in Los Angeles, pens a manifesto for human creativity and the beginning of a new renaissance. McManus not only calls us to reclaim our creative essence but reveals how we can craft our lives into a work of art. There are no shortcuts to quality, and McManus celebrates the spiritual process that can help us discover our true selves.
McManus demonstrates that we all carry within us the essence of an artist. We all need to create, to be a part of a process that brings to the world something beautiful, good, and true, in order to allow our souls to come to life. It's not only the quality of the ingredients we use to build our lives that matter, but the care we bring to the process itself. Just like baking artisan bread, it's a process that's crafted over time. And God has something to say about how we craft our lives. With poignant, inspirational stories and insights from art, life, history, and scripture interspersed throughout, McManus walks readers through the process of crafting a life of beauty and wonder.
---
In this grab bag we have 3 e-books on prayer from Barbour Publishing. The prices and sale dates that the publisher has provided are under each ebook cover.
[table "4251" not found /]
---
A
uthor(s): Christopher A. Castaldo
Publisher: Zondervan
Price: $3.99

Drawing on his Roman Catholic background, personal interviews with Catholics and Evangelicals, and years of research, Chris Castaldo takes readers on a fascinating and practical exploration of the challenges and opportunities encountered by Catholics who become Evangelicals. He examines the five major reasons why Christ's followers often leave the Catholic Church, and shows how to emulate Jesus in practical ways when engaging Catholic friends and family. And, with humor and authenticity, he shares his own faith journey in order to help readers understand and work through their own. For those who are tired of scratching their head in confusion or frustration about how their Catholic background may influence their walk with Jesus, and why on earth their Catholic family believes they've gone off the deep end, Holy Ground offers vast insight and practical help. More than providing historical perspective, theological reflection, and practical lessons, it shows readers how to emulate the grace and truth of Jesus Christ in relating to the Catholic people whom they love.
---
Author(s): C. S. Lewis
Publisher: HarperCollins
Price: $1.99

Compiled especially for fans who have read all the books in the classic fantasy series The Chronicles of Narnia, here are over 100 questions, highlighted by original black-and-white art, to test your memory and challenge your friends to a Narnia trivia contest.
Do you think you know Narnia inside and out? What do Dufflepuds use as boats? What is Lucy's last name? What does Puzzle fish out of Cauldron Pool? Find the answers to these questions and more in The Narnia Trivia Book. C. S. Lewis's classic series is filled with extraordinary characters, fantastic creatures, and thrilling journeys. Epic battles between good and evil, heroic deeds, and friendships won and lost all come together in this magical realm where details are important and worlds come and go on the toss of a ring.
Brush up on your Narnia know-how by reading the entire Chronicles of Narnia: The Magician's Nephew; The Lion, the Witch and the Wardrobe; The Horse and His Boy; Prince Caspian; The Voyage of the Dawn Treader; The Silver Chair; and The Last Battle.
---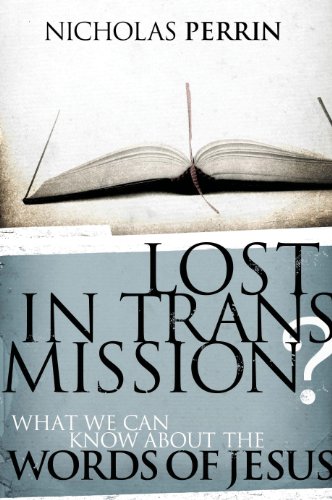 Author(s): Nicholas Perrin
Publisher: Thomas Nelson
Price: $3.99

Bart Ehrman, in his New York Times bestseller, Misquoting Jesus, claims that the New Testament cannot wholly be trusted. Cutting and probing with the tools of text criticism, Ehrman suggests that many of its episodes are nothing but legend, fabricated by those who copied or collated its pages in the intervening centuries. The result is confusion and doubt. Can we truly trust what the New Testament says?
Now, Wheaton College scholar Nicholas Perrin takes on Ehrman and others who claim that the text of the New Testament has been corrupted beyond recognition. Perrin, in an approachable, compelling style, gives us a layman's guide to textual criticism so that readers can understand the subtleties of Ehrman's critiques, and provides firm evidence to suggest that the New Testament can, indeed, be trusted.
---
---
Gospel eBooks is a participant in the Amazon Services LLC Associates Program, an affiliate advertising program designed to provide a means for sites to earn advertising fees by advertising and linking to amazon.com. View our
Privacy Policy
.