---
Join our list
Subscribe to our mailing list and get interesting stuff and updates to your email inbox.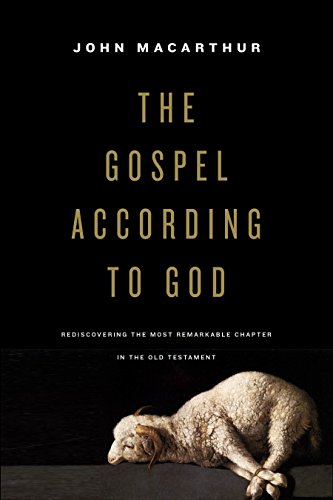 Author(s):
John F. MacArthur
Publisher:
Crossway Books
Price:
$2.99
(Apr 23-24)
"He was pierced for our transgressions; he was crushed for our iniquities; upon him was the chastisement that brought us peace, and with his wounds we are healed." Isaiah 53:5
Often hailed as one of the greatest chapters in the Bible, the prophecy of the suffering servant in Isaiah 53 foretells the crucifixion of Jesus, the central event in God's ultimate plan to redeem the world.
This book explains the prophetic words of Isaiah 53 verse by verse, highlighting important connections to the history of Israel and to the New Testament—ultimately showing us how this ancient prophecy illuminates essential truths that undergird our lives today.
---
In this grab bag we have 7 e-books on prayer from Harvest House. The prices and sale dates that the publisher has provided are under each ebook cover.
[table "4291" not found /]
---
Author(s): Matt Walsh
Publisher: Image
Price: $4.99

t's now or never for conservative values.
This highly anticipated debut from Matt Walsh of The Blaze demands that conservative voters make a last stand and fight for the moral center of America. The Trump presidency and Republican Congress provides an urgent opportunity to stop the Left's value-bending march to destroy the culture of our country.
Republican control of the presidency, senate, and House of Representatives for the next two years is a precious—and fleeting—gift to conservatives. Americans concerned with blocking liberals' swift rethinking of life, marriage, and gender need to capture this moment to turn the tide of history.
For years conservatives have worried endlessly about peripheral issues, liberals have been hard at work chipping away at the bedrock of our civilization, and putting a new foundation in its place. New attitudes on abortion, gay marriage, and gender identity threaten to become culture defining victories for progressives—radically altering not just our politics, but dangerously placing Man above God and the self above the good of the whole.
What's at stake? The most fundamental elements of society, including how we understand reality itself.
In The Unholy Trinity, TheBlaze contributor Matt Walsh draws on Catholic teachings to expose how liberals have attempted, with startling success, to redefine life, marriage, and gender. Abortion redefines human life, gay marriage redefines the family, and the latest theories on gender redefine what it means to be a man or a woman. The potential consequences are dire. If progressivism can bend life, family, and sex to its whims, Walsh argues, it has established relativism over God as the supreme law, and owns the power to destroy western civilization.
With insight, candor, and faith, Walsh shows conservatives how to confront liberal arguments, defeat the progressive agenda for good, and reclaim American culture for truth.
---
In this grab bag we have 6 fiction e-books which were written by Miralee Ferrell. The prices and sale dates that the publisher has provided are under each ebook cover.
[table "4289" not found /]
---
In this grab bag we have 21 e-books from David C. Cook. The prices and sale dates that the publisher has provided are under each ebook cover.
[table "4287" not found /]
---
In this grab bag we have 3 fiction e-books from Imagine…Series which were written by Matt Koceich and published Barbour Books. The prices and sale dates that the publisher has provided are under each ebook cover.
[table "4290" not found /]
---
Author(s): Liz Curtis Higgs
Publisher: Waterbrook Press
Price: $1.99 (Ends May 5)


This giftable Bible study for the Lenten season explores the stories of three women who played a vital role in the life and ministry of Jesus, as well as in the events of that first Holy Week that first Easter.
With unforgettable insights and powerful life application for today's women, Liz Curtis Higgs delves into the biblical text to help us view Easter through the eyes of three women named Mary, each of whom has a life-changing encounter with Jesus: Mary of Bethany, who prepares the way for the Lord's burial when she anoints His feet and fills the air with her perfume; Mary of Nazareth, who remains by His side from His first breath to His last, her loyalty unwavering; and Mary Magdalene, delivered of seven demons, who bravely supports her Teacher through His darkest hours, then proclaims the glorious news of His resurrection
What a trio. What a Savior!
Your mind and emotions will be engaged and your faith strengthened as each scene unfolds, preparing your heart for a richer, deeper Easter experience. Higgs, a seasoned Bible teacher and award-winning novelist, combines her storytelling skills with a thorough verse-by-verse study of Scripture as together you explore the remarkable lives of The Women of Easter.
"The perfect companion for Easter and beyond!"
—Jennie Allen, visionary of IF:Gathering
"Liz Curtis Higgs is one of the most amazing teachers of God's Word that I have ever experienced. Her in-depth knowledge of the Scriptures, gifting as a communicator, and personal relationship with the Lord make her unmatched in the ability to take biblical truth and make it applicable to anybody."
—Priscilla Shirer, New York Times best-selling author of Fervent
---
---
Gospel eBooks is a participant in the Amazon Services LLC Associates Program, an affiliate advertising program designed to provide a means for sites to earn advertising fees by advertising and linking to amazon.com. View our
Privacy Policy
.