---
In this grab bag we have 5 e-books from Crossway. The prices and sale dates that the publisher has provided are under each ebook cover.
---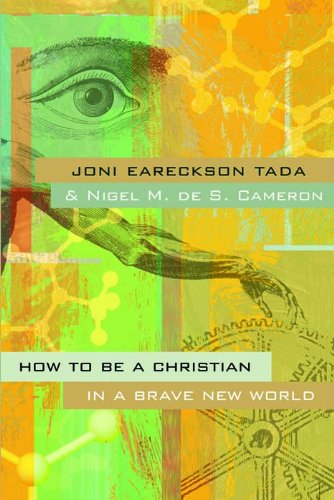 Author(s): Joni Eareckson Tada
Publisher: Zondervan
Price: $0.99

Stem-cell research. Cloning. Genetic engineering. Today, discoveries in biotechnology are occurring so rapidly that we can barely begin to address one ethical debate before another looms overhead. This brave new world we've entered is a daunting one as well, with disturbing implications for the sanctity of life and for human nature itself. How should we respond as Christians? Drawing on an abundance of cutting-edge information and life experience, Joni Eareckson Tada and Nigel M. de S. Cameron help you think through issues no Christian can afford to ignore. As a quadriplegic who has spent three decades advocating for the disability community out of a wheelchair, Joni offers the insights of a woman intimately acquainted with suffering and struggle. Dr. Cameron shares from his vast knowledge as one of today's foremost bioethics. Together, they offer deeply informed perspectives on such pressing issues as Human cloning Designer babies Redefining human nature Human harvesting Here is thoughtful, passionate, and gripping reading about the world that is coming—that, indeed, is already here—and how to live out your faith with conviction in its midst.
---
---
Author(s): David Whitcomb
Publisher: Ambassador International
Price: $0.99 (Feb 17-23)


Everyone supposed that Jesus, the man from Nazareth, was the son of Mary and Joseph the carpenter. But who was He really?
The debate over Jesus' identity has continued for two thousand years.
Was Jesus actually God or was He simply a man with an unusual teaching gift? Did He possess a divine nature that equipped Him to perform miracles, or were His miracles a slight of hand? Could He have actually been the incarnation of Jehovah?
His conversations prove that Jesus of Nazareth knew that He was God in human form.
The four Gospels record over sixty different conversations that Jesus Christ had with many different people in many different settings. His conversations consistently pointed to the truth that He was indeed, God in the flesh.
When Peter looked at this man who was very much like himself and concluded, "You are the Christ, the Son of the living God," he was exactly right. The plethora of modern theories denying Christ's divinity must be abandoned when we comprehend what He revealed about Himself through His conversations.
---
Author(s): Terry Mattingly
Publisher: Thomas Nelson
Price: $1.99

Johnny Cash, Harry Potter, the Simpsons, and John Grisham. What do all of these icons in pop culture have to do with faith? Find the answer in Pop Goes Religion; relevant insight into the world of today's entertainment.
In this collection of essays, popular American journalist, Terry Mattingly teaches readers how to identify elements of faith in today's pop culture.
Topics include:
God & Popular Music
Faith & the Big Screen
God on TV
Ink, Paper, and God
Politics and Current Events
From music to movies, politics to the pope, Mattingly explores the matters of the heart with a fresh and relevant perspective.
---
Author(s): Paul Foster & Sara Parvis
Publisher: Fortress Press
Price: $4.99

Champion of martyrs, scourge of heretics, erudite theologian, shrewd politician–no account of early Christianity is complete without careful consideration of Irenaeus of Lyons. Here a team of international scholars examine aspects of the saint's life, historical context, engagement with scripture, and his ecclesiastical and theological legacy for succeeding generations.
---