---
Join our list
Subscribe to our mailing list and get interesting stuff and updates to your email inbox.
Author(s): Albert N. Martin
Publisher: Reformation Heritage Books
Price: $2.99

The fear of God is an important theme in the Bible, yet many Christians today overlook it or treat it carelessly. Fearing God is the soul of godliness, and those who claim to love God should desire to understand what it means to fear Him. 'The Forgotten Fear' revisits this important topic. Author Albert Martin first establishes the theme of the fear of God in both the Old and New Testaments, and then defines what fearing God means. Finally, he addresses the practical implications of fearing God, showing its expression in the lives of Abraham and Joseph and providing instruction for believers today to maintain and increase their fear of God.
Table of Contents:
Predominance of the Fear of God in Biblical Thought
Definition of the Fear of God
Ingredients of the Fear of God
Source of the Fear of God
Relationship of the Fear of God to Our Conduct
How to Maintain and Increase the Fear of God
A Final Word to the Reader
Author:
Albert N. Martin served as a pastor of Trinity Baptist Church of Montville, New Jersey for forty-six years. He now resides in western Michigan with his wife, Dorothy.
Endorsements:
"The twenty-first-century church desperately needs this book. The fear of God is evaporating from our consciousness, and the effects are tragically public. I am convinced that Albert Martin is casting forth the seeds of the revival that we need in the nick of time. 'The Forgotten Fear of God' is a comprehensive journey from Genesis to Revelation, tracing the rich contours of this pivotal doctrine. It is a feast full of surprises. We need the kind of revival that springs from the 'godly fear' of God. This book is a gift to the church in time of need. You will know and love God more after reading it." — Scott Brown, president, National Center for Family-Integrated Churches
"There is arguably no better and no wiser voice to speak about the fear of God than Pastor Albert Martin. In this book you will find a wonderful balance of a solid biblical argument linked with a heart-piercing application for both the believer as well as the unbeliever. Pastor Martin handles this lost and controversial topic with a pastoral tenderness that is warm and inviting and highlights well that the fear of God is a doctrine which should draw us near to God in worship and awe, not cause us to run from Him. This book will move you to worship God and marvel at the work of Christ on our behalf all the more." — Brian Croft, senior pastor, Auburndale Baptist Church; founder, Practical Shepherding; and senior fellow, Mathena Center for Church Revitalization, SBTS
"Professor John Murray once wrote, "The fear of God is the soul of godliness." Well said! But what is the fear of God? And how does the Christian biblically express it? Thankfully, Reformation Heritage Books brings us a new work that answers these questions. Coming this October is a masterful treatment of this vital subject by Pastor Albert N. Martin, who sets forth the Bible's teaching on this topic in ways that are clear, practical and motivating. Since the fear of God is a major theme from Genesis to Revelation, it is an enormous blessing to have this comprehensive exposition available. I highly recommend it." – Rob Ventura
---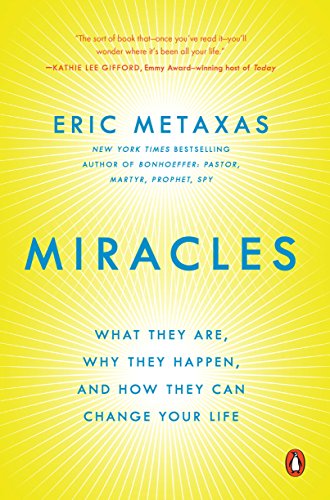 Author(s): Eric Metaxas
Publisher: Penguin Books
Price: $1.99

The #1 bestselling author of Bonhoeffer and Martin Luther explores miracles in an inspiring response to the "New Atheists"
Not since C. S. Lewis in 1947 has an author of Eric Metaxas's stature undertaken a major exploration of the phenomenon of miracles. In this groundbreaking work, Metaxas examines the compatibility between faith and science and provides well-documented anecdotal evidence of actual miracles. With compelling—sometimes electrifying—evidence that there is something real to be reckoned with, Metaxas offers a timely, civil, and thoughtful answer to recent books by Richard Dawkins, Christopher Hitchens, and Sam Harris. Already a New York Times bestseller, Miracles will be welcomed by both believers and skeptics—who will find their minds opening to the possibilities.
---
Author(s):
Evangeline Kelly
Publisher:
N/A
Price:
$2.99
She had a strict upbringing. He was in a motorcycle club. It wasn't enough to keep them apart.
Dex Mitchell was the heir to a billionaire manufacturing empire, but to step up to his rightful place in the business, he would have to embrace a relationship with the father who abandoned him…and that would never happen.
Brought up in an ultra-conservative home, Tirzah Olsson lived a sheltered life. Her parents had one goal: marry her off to a respectable man from their church, but Tirzah longed for real love and the freedom to make her own decisions.
When her soon-to-be-fiancé left her in a perilous situation, Dex Michell rode up on a Harley like a fierce hero, saving her from a near-assault. Once she climbed on the back of his bike, everything shifted for both of them.
Neither of them knew how to resist the pull they felt, but they were from two different worlds. It would never work.
Or so they said…
Good thing Dex, wasn't a stranger to taking risks…
*This is a contemporary Christian story with strong Biblical themes and Bible references.
---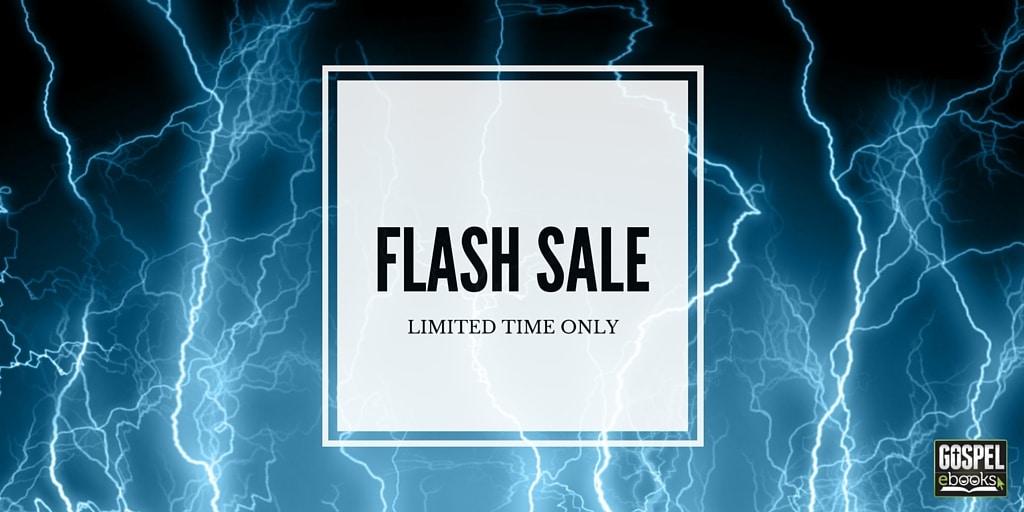 In this grab bag we have 3 fiction e-books from HarperCollins Christian Publishing. The prices and sale dates that the publisher has provided are under each ebook cover.
[table "4236" not found /]
---
Author(s): Jeff Deyo
Publisher: Destiny Image Publishers
Price: $0.99 (Ends Mar 21)


Find Your Way to Greater Closeness with God
Jeff Deyo invites you into a conversation about worship in a book that was written for anyone seeking to experience the Lord in a deeper way.
Does God's presence seem distant? Do you have a friend who has grown numb to the things of God? Have you given up on hearing God's voice in the way so many authors and preachers talk about? Are you ready to awaken your life to a vibrant, one-on-one relationship with the Father once and for all? This is your moment.
Your hope is about to be restored as you consider these questions and more:
Are we truly present in God's presence?
Do we encounter songs, artists, and atmospheres without encountering God Himself?
What do we do when we lose the emotion that often surrounds worshiping God?
Why are so many of us tempted to put ministry for God above intimacy with God?
Are we unintentionally worshiping the image of a false god when we cherry-pick easy-to-swallow scriptures about God's character?
Can the good work of serving the poor and moving in the supernatural cause us to miss the one thing?
Do we allow potential embarrassment to keep us from loving and worshiping God extravagantly?
Shift your perspective on relationship with God from obligation to invitation and rediscover authentic worship that reaches from the secret place to the marketplace.
---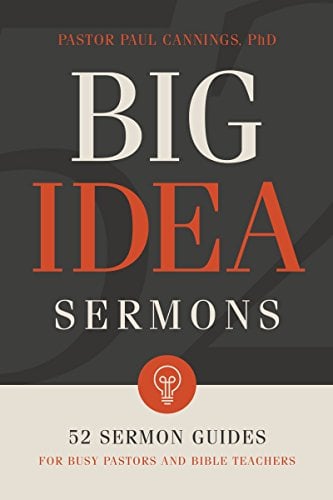 Author(s): Paul Cannings
Publisher: B&H Publishing
Price: $2.99 (Ends Mar 26)


The pastor's life never goes as one would imagine it. The highs are much greater and heartfelt than you anticipate; the anxiety and stress are deeper and last longer than you expect. Add to this mix the possibility of working a full time job in addition to pastoring, and you can see why a pastor's time is in such great demand.
What if you could hold in your hand a resource that would jump start your sermon writing process, allowing you to save time and still deliver a trustworthy sermon?
Dr. Paul Cannings, once a young pastor himself, remembers the days of struggling to balance it all. Now he has written a helpful guidebook that provides everything a pastor or lay teacher needs to write an effective, moving, and biblically sound sermon for each of the fifty-two weeks in the year. In Big Idea Sermons, Dr. Cannings clearly lays out the key components of a good sermon by including sermon outlines, series, background information, illustrations, holiday messages for Thanksgiving, Christmas, Mother's and Father's Day, and more. He also includes references to the Hebrew and Greek texts for further validation. By working with the original languages, Dr. Cannings proclaims the gospel in a clear, engaging, and trustworthy manner.
Pastors, preachers, lay teachers, and anyone in position to preach a sermon or teach a lesson: Big Idea Sermons is here to help. All that you need to write a good sermon is included. Be sure to read, meditate, and pray so you may use this resource wisely and effectively.
---
Author(s): Keith R. Anderson
Publisher: Intervarsity Press
Price: $4.99 (Mar 18-22)


Spiritual mentoring is a particular kind of friendship in which, according to Keith R. Anderson, "two or more people walk together in heightened awareness of the presence of yet Another"—the Holy Spirit.
"Spiritual mentoring is not a complicated process that requires technical training and complex protocol," Anderson continues. "It is essential, authentic, and maybe even natural human speech that is focused, disciplined and nurtured by training for one of the hardest natural things we do: listening reflectively to another. It is sacred companionship as life is lived and story told. Available to almost all, it requires deliberate recruitment, preparation and practice."
These pages unfold a vision for mentoring that invites us to read our own lives as narrative and to learn how to enter the narrative of another life. The book covers the scope of the mentoring relationship through various seasons, offering helpful and inspiring metaphors for mentoring. All are invited to enter the mentoring story.
---
---
Gospel eBooks is a participant in the Amazon Services LLC Associates Program, an affiliate advertising program designed to provide a means for sites to earn advertising fees by advertising and linking to amazon.com. View our
Privacy Policy
.