---
Join our list
Subscribe to our mailing list and get interesting stuff and updates to your email inbox.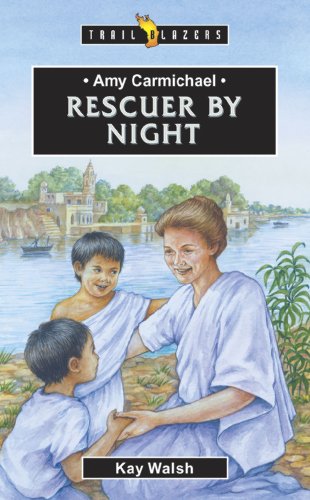 Author(s):
Kay Walsh
Publisher:
Christian Focus Publications
Price:
$2.99
(Mar 8-9)
'I can't see! It's dark everywhere. What place is this? Where am I?'
Jeya was only four years old and was terrified as she tried to peer about the dark and gloomy temple. Between the pillars was a huge stone body. She shivered when she saw its face. This, she knew, was Kali, the goddess of death and destruction.
Why was Jeya there? Who would leave a little girl in the dark like that? Certainly not the God of love – he sent a woman to rescue these children from destruction – Amy Carmichael. And she had been a little girl herself once a little girl with long dark hair, and deep brown eyes. Once she had even begged God to make them blue – but he hadn't. And as Amy leaned over to pick little Jeya up and rescue her from a life of temple-slavery – she was very glad that God hadn't listened to her prayers. Blue eyes were not the eyes of India – but Amy's brown eyes were.
"Amy Carmichael is one of those women who should be every young girl's heroine. Her childhood escapades and journey of faith are wonderful stories in their own right. Her adventures in India are the concluding part to this extraordinary life."
Catherine MacKenzie ~ Author and CF4K Editor
If you like this, you'll love this: When buying the Amy Carmichael Trailblazer for 9-14 year olds check out the Amy Carmichael Little Lights for 4-8 year olds. Amy Carmichael: Can brown eyes be made blue? A fully illustrated children's book for younger readers. Amy Carmichael also features in Ten girls who changed the World by Irene Howat.
Catherine MacKenzie ~ Author and CF4K Editor
---
---
Gospel eBooks is a participant in the Amazon Services LLC Associates Program, an affiliate advertising program designed to provide a means for sites to earn advertising fees by advertising and linking to amazon.com. View our
Privacy Policy
.