---
Join our list
Subscribe to our mailing list and get interesting stuff and updates to your email inbox.
Author(s):
Jason Lisle
Publisher:
Master Books
Price:
$2.99
(May 15-16)
Every day Christians are faced with an increasing onslaught of criticism from evolutionists for their belief in God and His glorious creation. What do you say when your faith is challenged by those claiming to speak in the name of science or reason? Discerning Truth provides a practical and engaging resource on the use of logic in this critical debate. Filled with anecdotes from both creative examples and real-life illustrations that help clarify logical issues in apologetics. Become skilled at distinguishing sound arguments from emotionally-charged rhetoric. Helps any believer refute evolutionary perspectives. Lisle believes that creationists need to be able to recognize and refute evolutionist arguments, and to do so in a way that both honors God and lines up with the truth of His Word (Eph. 5:1). The role of logic, the study of correct reasoning, is becoming a vanishing skill in our society. Yet it is a vital tool in assisting Christians in assessing the weaknesses in evolutionary thought. Here is the clear and concise guide for every believer in defending your faith in the face of adversity.
---
Author(s): Matt Perman
Publisher: Zondervan
Price: $1.99 (May 15-17)


Most of us are trying to make a difference where we are, yet feel overwhelmed, overloaded, and far too busy. Some even have great, world-changing ideas — but get stuck trying to make them happen. How do you get "unstuck" from these things to make a real difference — without resorting to complex systems that take more time to keep up than they actually save?
How to Get Unstuck answers this question by introducing readers to ten core principles that are at the heart of becoming an effective person for the glory of God. These principles are flexible enough for people to adapt and apply them to their own life and context.
This book is more than just good ideas that you read and never apply. How to Get Unstuck walks you step-by-step through the core principles that free you to be more effective in everything you do. Each chapter also has an "Unstuck Clinic" that allows you to reflect and apply the principles more fully to yourself.
How can we learn the discipline of personal effectiveness? Starting with the Scriptures and drawing on the best contemporary research, How to Get Unstuck shows you how to live an integrated life. True effectiveness is accomplishing God's purposes, in God's way, and for God's glory, and this book will show you how.
---
In this grab bag we have 22 e-books from David C. Cook. The prices and sale dates that the publisher has provided are under each ebook cover.
[table "4326" not found /]
---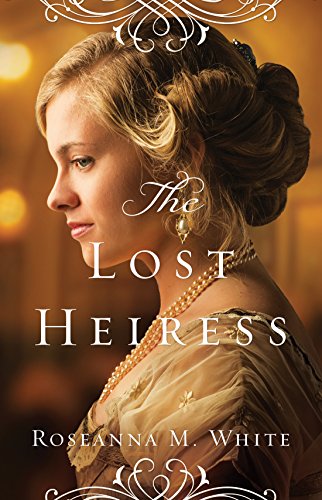 Author(s): Roseanna M. White
Publisher: Bethany House Publishers
Price: $1.59

Roseanna White Debuts Sparkling British Historical Romance
Brook Eden has never known where she truly belongs. Though raised in the palace of Monaco, she's British by birth and was brought to the Grimaldis under suspicious circumstances as a babe. When Brook's friend Justin uncovers the fact that Brook is likely a missing heiress from Yorkshire, Brook leaves the sun of the Mediterranean to travel to the moors of the North Sea to the estate of her supposed family.
The mystery of her mother's death haunts her, and though her father is quick to accept her, the rest of the family and the servants of Whitby Park are not. Only when Brook's life is threatened do they draw close–but their loyalty may come too late to save Brook from the same threat that led to tragedy for her mother.
As heir to a dukedom, Justin is no stranger to balancing responsibilities. When the matters of his estate force him far from Brook, the distance between them reveals that what began as friendship has grown into something much more. But how can their very different loyalties and responsibilities ever come together?
And then, for a second time, the heiress of Whitby Park is stolen away because of
the very rare treasure in her possession–and this time only the servants of Whitby can save her.
---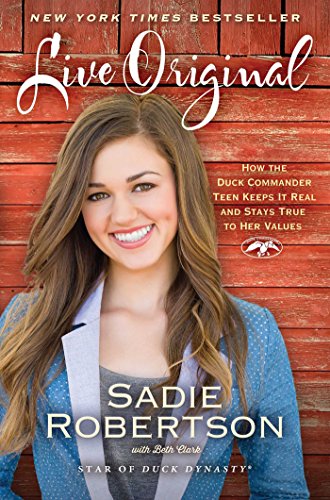 Author(s): Sadie Robertson
Publisher: Howard Books
Price: $1.99

Seventeen-year-old Sadie Robertson—star of A&E's Duck Dynasty and daughter of Willie and Korie Robertson—shares her outlook on life as she opens up about herself and the values that make her family what it is.
Sadie Robertson represents everything that a well-adjusted teenager should be, even while growing up in the spotlight on Duck Dynasty. She exhibits poise, respect for her family and friends, and a faith that influences her choices. Everyone wants to know how a family as eclectic as the Robertsons are raising such confident, fun, family-loving kids. With this book, Sadie sheds light on the values instilled by her family that make her the person she is.
Sadie lives by a simple list of principles that lead her to personal and spiritual growth and allow the relationships she has with her friends and family to flourish. These values include think happy, be happy; dream big; shake the hate; do something; and many more.
Living as a culturally relevant teen who loves God and her family, Sadie has become a role model for other teens and for parents who are eager to instill the same characteristics in their children.
---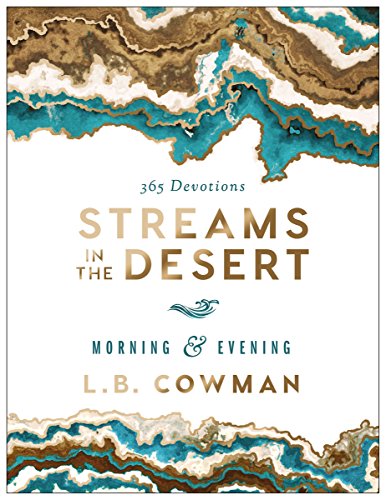 Author(s): L. B. E. Cowman
Publisher: Zondervan
Price: $1.99 (May 15-17)


Streams in the Desert and Springs in the Valley combine in this morning and evening devotional to not only sustain and replenish God's weary desert travelers but also provide refreshment and joy to the thirsty soul.
Streams in the Desert is one of the most popular and beloved daily devotionals of all time. Now it has been combined with Cowman's follow-up Springs in the Valley for a perfect morning and evening devotional. Over 900 pages of encouraging readings will speak to your soul with the ageless truth of the Word of God.
Cowman's timeless messages lend guidance and hope while encouraging a deeper faith walk. She shares cool draughts of wisdom and insight into God's character, drawn from the Scriptures and purified through a lifetime of experience. You will relish the opportunity to drink from enduring wisdom twice daily.
Start your mornings and wind down during your evenings by connecting your heart to the One who knows it best through Streams in the Desert Morning and Evening.
---
Author(s): Beverly Lewis
Publisher: Bethany House Publishers
Price: $0.79 (Ends May 31)


Annie's People Book 1- A new series from The New York Times bestselling author of the ABRAM'S DAUGHTERS series! The Preacher's Daughter begins a remarkable journey of heartache and homespun delight–a series readers will find impossible to forget. Paradise, Pennsylvania, is likened to a little slice of heaven on earth…but for Annie Zook–the preacher's eldest daughter–it seems like a dead-end street. She is expected to join the Amish church, but at 20 she is "still deciding." Because of the strict rules that guide the Plain community, she must continually squelch her artistic passion, although it has become her solace. In her signature style, with character depth and unexpected plot twists, beloved novelist Beverly Lewis once again opens the door to the world of the Amish.
---
---
Gospel eBooks is a participant in the Amazon Services LLC Associates Program, an affiliate advertising program designed to provide a means for sites to earn advertising fees by advertising and linking to amazon.com. View our
Privacy Policy
.