---
Join our list
Subscribe to our mailing list and get interesting stuff and updates to your email inbox.
Author(s):
Helen Roseveare
Publisher:
Christian Focus Publications
Price:
$2.99
(Feb 1-2)
"The quiet, consistent lives of Christian students drew me and began to convince me. The teaching in their Bible study groups and the assurance in their daily prayer meetings brought a sense of sober reality. They talked of faith as an objective reality, not a blind leap-in-the-dark, hoping for the best. Faith to them was something far more wonderful and real than mere believism or frightened escapism. They spoke of faith as a fact, a gift from God himself to his people to enable them to grasp and comprehend truth."
Thus starts Helen Roseveare's search for spiritual understanding of the world around her – a world that she was to have a significant impact on once her new faith led her to Africa.
Dr. Helen Roseveare has led an exciting life, dealing with people in the depths of their despair – and at their most joyous. She has also become a prolific author and sought after conference speaker – still writing and speaking at international conferences on faith and mission.
Her 'Living…' series have become instant classics and we are pleased to reprint them for a new audience.
Here, Helen tells stories of faith from her experiences that help us to understand its role in our lives and how to strengthen it.
---
Author(s): Joel C. Rosenberg
Publisher: Tyndale House Publishers
Price: $2.99

A New York Times, USA TODAY, and Publishers Weekly bestseller!
More than 100,000 copies sold
"Rosenberg cranks up the suspense, delivering his most stunning, high-stakes thriller yet." —Publishers Weekly
"A stellar novel of riveting action and political intrigue." —Mark Greaney, #1 New York Times bestselling author of Agent in Place
"Absolutely blown away by how good this guy is. . . . Simply masterful." —Sean Parnell, New York Times bestselling author of Outlaw Platoon
"An uncanny talent for focusing his storytelling on real-world hot spots just as they are heating up." —Porter Goss, former director of the CIA
"A full-throttle and frightening ride through tomorrow's headlines." —Brigadier General (U.S. Army, Retired) A. J. Tata, bestselling author of Direct Fire
New York Times bestselling author Joel C. Rosenberg returns with a high-stakes political thriller set in Russia.
Everything he learned to protect our president, he must use to take out theirs.
With an American president distracted by growing tensions in North Korea and Iran, an ominous new threat is emerging in Moscow. A czar is rising in the Kremlin, a Russian president feverishly consolidating power, silencing his opposition, and plotting a brazen and lightning-fast military strike that could rupture the NATO alliance and bring Washington and Moscow to the brink of nuclear war. But in his blind spot is former U.S. Secret Service agent Marcus Ryker, trained to protect but ready to kill to save his country.Description.
---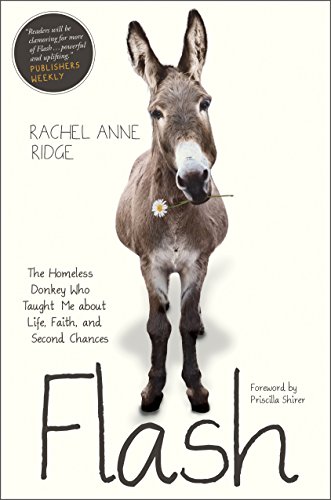 Author(s): Rachel Anne Ridge
Publisher: Tyndale Momentum
Price: $2.99 (Ends Feb 28)


The heartwarming tale of an irrepressible donkey who needed a home—and forever changed a family.
Rachel Anne Ridge was at the end of her rope. The economy had crashed, taking her formerly thriving business along with it. She had been a successful artist, doing work she loved, but now she felt like a failure. How would her family pay their bills? What would the future hold? If only God would somehow let them know that everything was going to be all right . . . and then Flash the donkey showed up.
If there is ever a good time to discover a wounded, frightened, bedraggled donkey standing in your driveway, this wasn't it. The local sheriff dismissed Flash as "worthless." But Rachel didn't believe that, and she couldn't turn him away. She brought Flash into her struggling family during their darkest hour—and he turned out to be the very thing they needed most. Flash is the true story of their adventures together in learning to love and trust; breaking down whatever fences stood in their way; and finding the strength, confidence, and faith to carry on. Prepare to fall in love with Flash: a quirky, unlikely hero with gigantic ears, a deafening bray, a personality as big as Texas, and a story you'll never forget.
---
In this grab bag we have 3 e-books from the Prairie Promises Series which were written by Kelly E. Hake. The prices and sale dates that the publisher has provided are under each ebook cover.
[table "4126" not found /]
---
---
Gospel eBooks is a participant in the Amazon Services LLC Associates Program, an affiliate advertising program designed to provide a means for sites to earn advertising fees by advertising and linking to amazon.com. View our
Privacy Policy
.