---
Join our list
Subscribe to our mailing list and get interesting stuff and updates to your email inbox.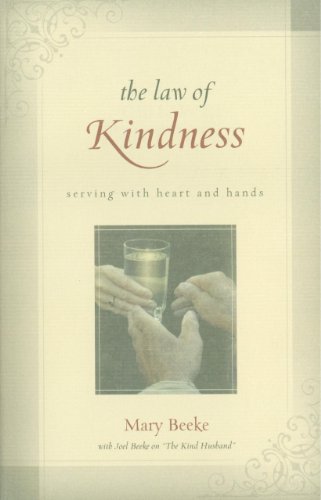 Author(s): Mary Beeke
Publisher: Reformation Heritage Books
Price: $2.99   (Ends Aug 31)


"And be ye kind to another," begins Ephesians 4:32. Christians are called to this standard, but how seriously do we take it?
In 'The Law of Kindness', Mary Beeke examines the idea of kindness, shows how it is developed, and gives helpful advice for putting it into action, with specific chapters addressed to wives, husbands, parents, teachers, and children. Readers will be struck by their own lack of kindness, captivated by God's kindness toward us in Jesus Christ, and motivated to cultivate more of this precious virtue.
Table of Contents: 
Part 1: Kindness Examined 
1. What is Kindness? 
2. The Roots of Kindness 
3. Our Motives 
Part 2: Kindness Learned
4. The Kind Wife 
5. The Kind Husband 
6. Parenting With Kindness 
7. The Teacher's Role 
8. Bullying 
9. A Letter to Children and Teens 
Part 3: Kindness in Action
10. Kind Thoughts 
11. Kind Words 
12. Kindness to the Least of These 
13. Your Kind of Kindness 
Author 
Mary Beeke is the wife of Dr. Joel Beeke and the mother of Calvin, Esther, and Lydia. She has served as a registered nurse and an elementary teacher and has her M.A.T. in learning disabilities from Calvin College. Since 1989, she has been a homemaker and a pastor's wife.
Endorsements 
"Mary Beeke—wife, mother, friend to many—is herself Mrs. Kindness personified. When she writes about this theme, therefore, everyone should listen. Full of wisdom, grace, story, good-humor, and a substantial dose of down-to-earth heavenly realism, The 'Law of Kindness' is a unique and remarkable book. Christians and non-Christians will find it marvelously honest, realistic, and practical. Both deeply challenging and wonderfully helpful, this book will surely be a modern classic of its kind." – Dr. Sinclair B. Ferguson 
"Mary Beeke has given us an invaluable source of reflection upon a much needed Christian virtue—kindness. In doing so, she has provided us with breathtaking examples of Christian kindness in action, interspersed with practical applications on this Christ-like fruit of the Spirit. This will prove a deservedly popular book, one that readers will return to again and again." – Dr. Derek Thomas
---
---
Gospel eBooks is a participant in the Amazon Services LLC Associates Program, an affiliate advertising program designed to provide a means for sites to earn advertising fees by advertising and linking to amazon.com. View our
Privacy Policy
.