---
Join our list
Subscribe to our mailing list and get interesting stuff and updates to your email inbox.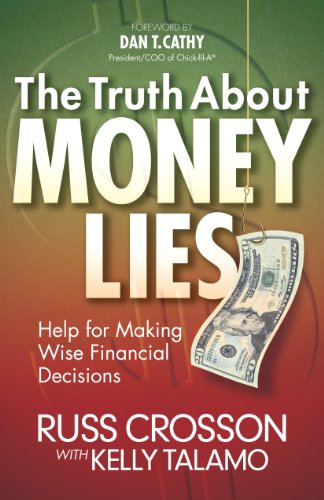 The Truth About Money Lies
Author(s): Russ Crosson
Publisher: Harvest House Publishers
Price: $2.99

When readers want financial advice (and who doesn't these days?), they turn to experts such as Russ Crosson, CEO of Ron Blue & Co., the highly successful Christian-based financial planning advisory firm.
In this important book, Russ teams up with gifted communicator Kelly Talamo to offer readers the truth about popular money lies that influence the spending decisions of millions of Americans.
Through the use of everyday stories about men and women who wrestle with spending decisions everyone faces, the authors expose the lies involved and give truth principles based on the Bible to refute the lies.
Common lies include:
10 percent is God's, 90 percent is mine
I can't afford to give
My security is in my investments
My talents and abilities produce my wealth
The harder I work, the more money I make
Readers will be better equipped to manage money, make informed financial decisions, and use their money wisely as they replace the common money lies they've been taught with the truth of the Bible.
---
Your Life…Well Spent: The Eternal Rewards of Investing Yourself and Your Money in Your Family
Author(s): Russ Crosson
Publisher: Harvest House Publishers
Price: $2.99

When most Christians think about money, they think about what money can do for them now, here in this life.
But attitudes about money have an eternal aspect—and author Russ Crosson, CEO of Ronald Blue & Co. and a highly respected investment advisor—offers readers a look how to manage money with eternity in view. They'll learn the difference between prosperity—the accumulation of goods on this earth, and posterity—the heritage left to the generations that follow.
Readers will discover a new way of thinking about money, about their life's work—and about how to get a higher return on life itself.
Included are:
A new understanding of work
Training up a child
Adding posterity time to busy schedules
Four major financial decisions that affect eternity
Pros and cons of buying versus renting a home
"Without the information in this book, your budget may be balanced, but unwise—your bookkeeping may be timely, but reflect only temporal values. This is the book to read first, before any others, for the renewing of your financial mind."
Bruce Wilkinson, author of The Prayer of Jabez
---
---
Gospel eBooks is a participant in the Amazon Services LLC Associates Program, an affiliate advertising program designed to provide a means for sites to earn advertising fees by advertising and linking to amazon.com. View our
Privacy Policy
.