---
What If God Wrote Your To-Do List?: 52 Ways to Make the Most of Every Day
Author(s): Jay Payleitner
Publisher: Harvest House Publishers
Price: $1.99  DEAL EXPIRED


What is God Asking You "To-Do" Today?
When you talk to God about His plans for you, do you tend to focus on the far-off future? Big-picture thinking is great, but don't miss out on what the Lord has in store for you today.
These 52 easy tasks will help you embrace opportunities to grow closer to God, reach out to others, and take better care of yourself. This is a to-do list for your soul.
Read a Psalm, talk to a neighbor, or right a wrong. These are just a few examples of the simple activities that will enrich your everyday life.
God is calling you to make the most of each day and live life to the fullest!
---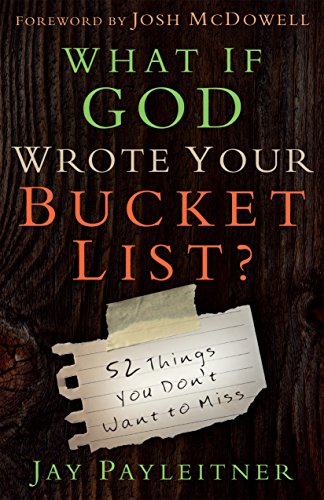 What If God Wrote Your Bucket List?
Author(s): Jay Payleitner
Publisher: Harvest House Publishers
Price: $2.99

Go bungee jumping. Tango. See the Eiffel Tower. Swim with sharks.
Bucket lists can get pretty crazy! But what if God wanted you to think even further outside the box? To pattern your life after the one who said some pretty crazy things himself: "Love your enemies." "Store up treasures in heaven." "Seek first his kingdom and righteousness."
If you checked every item off your bucket list, would your life be complete? In these pages you'll find 52 items to help you revamp your must-do list…
Run with scissors. Bounce off brick walls. Celebrate quirks.
Banish grudges. Dodge counterfeit happiness. Peek into dark corners.
Get fired. Enlist invisible reinforcements. Get nose-to-nose with an alligator.
As you check off God's bucket list, you may find yourself doing things you never thought possible. Jay Payleitner helps you get your priorities straight with the most important relationship in your life—you and God.
---
---