---
Join our list
Subscribe to our mailing list and get interesting stuff and updates to your email inbox.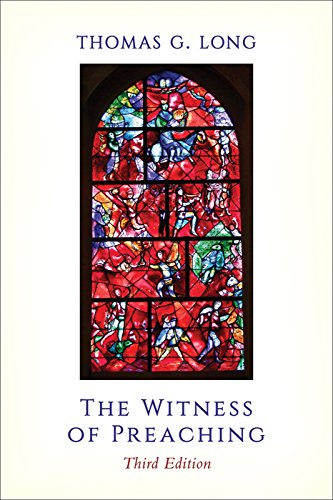 The Witness of Preaching, Third Edition
Author(s): Thomas G. Long (Professor, Emory University)
Publisher: Westminster John Knox Press
Price: $1.99

This is a newly revised edition of one of the standard introductory preaching textbooks on the market today. Beginning with a solid theological basis, veteran preacher and best-selling author Thomas G. Long offers a practical, step-by-step guide to writing a sermon. Long centers his approach around the biblical concept of witness. To be a preacher, Long posits, is to be a witness to God's work in the world—one who sees before speaking, one whose task is to "tell the truth, the whole truth, and nothing but the truth about what is seen."
This updated edition freshens up language and anecdotes, contains an extensive new analysis of the use of multimedia and its impact on preaching, and adds a completely new chapter on plagiarism in preaching. Included for the first time are four complete sermons, with Long's commentary and analysis. The sermons were written and originally preached by Barbara Brown Taylor, Cleophus J. LaRue. Ginger Gaines-Cirelli, and Edmund Steimle. With this third edition, The Witness of Preaching reaffirms itself as the essential resource for seminary students as well as new and experienced preachers.
---
Preaching and the Literary Forms of the Bible
Author(s): Thomas G. Long (Professor, Emory University)
Publisher: Fortress Press
Price: $4.99

Long argues that the literary form and dynamics of biblical texts can and should make a difference in the kinds of sermons created from those texts, not only because of what the texts say but because of how they say it. He presents a methodology for taking the literary characteristics of biblical texts into account in the text-to-sermon process and then applies that methodology in separate chapters on preaching on psalms, proverbs, narratives, parables, and epistles.
---
---
Gospel eBooks is a participant in the Amazon Services LLC Associates Program, an affiliate advertising program designed to provide a means for sites to earn advertising fees by advertising and linking to amazon.com. View our
Privacy Policy
.