---
Join our list
Subscribe to our mailing list and get interesting stuff and updates to your email inbox.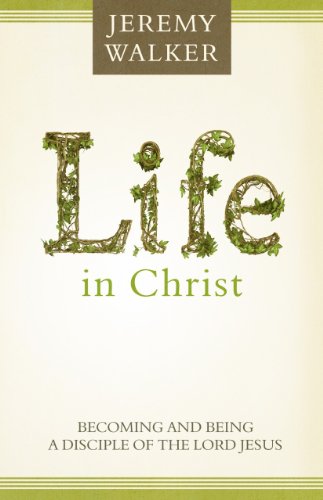 Author(s):
Jeremy Walker
Publisher:
Reformation Heritage Books
Price:
$2.99 
 (Sept 7-8)
"To be a disciple of Jesus Christ is to be in a position of privilege and blessing beyond anything the world might offer," begins author Jeremy Walker. Life in Christ explores the unsearchable riches of the Christian pilgrimage and traces its trajectory, highlighting key elements in the believer's experience. Do you wrestle with assurance? Have you grasped the engagement demanded in Christian living? Do you find the way wearying at times? Do you struggle with your Christian identity? Walker provides instruction for Christians to assess their own standing and progress in the faith—exhorting and equipping and always pointing them ahead to the hope of the glory of Christ. Along the way, he encourages God's people to live life to the praise of His glory as he examines some of the basic truths that establish and direct a true child of God.
Author:
Jeremy Walker is a pastor of Maidenbower Baptist Church in Crawley, England, coauthor of A Portrait of Paul: Identifying a True Minister of Christ, and author of The Brokenhearted Evangelist.
Endorsements:
"In his new book, my good friend Jeremy Walker, in a most breathtaking way, vividly opens up the beauties and glories of becoming and being a disciple of Christ. In reading this work I was greatly moved and reminded afresh of the wonders of my salvation and was tearfully left praising God for all that He has done in my life. Since no other subject in the Word of God is more important than the one addressed in this volume, I cannot commend it too highly." — Rob Ventura, Pastor, Grace Community Baptist Church, North Providence, Rhode Island, co-author of A Portrait of Paul
"One of the most neglected topics of our day happens to be one of the most essential aspects of our Christian lives—our union with Christ. You will be grateful to know that this gaping hole is being wonderfully filled with Jeremy Walker's new book, Life in Christ. Jeremy writes with theological precision, exegetical clarity, and pastoral sensitivity that promise this book to be a very useful resource not just for those seeking to grow more in Christ but even unbelievers needing to know why Christ is to be so treasured. Read this book and prepare to be amazed afresh of what it means for us as sinners to be in Christ and partakers of his heavenly reward." — Brian Croft, senior pastor, Auburndale Baptist Church, and founder and ministry development director of Practical Shepherding
"In this splendid book on the very central issues of eternity, Jeremy Walker, like J. C. Ryle of old, carries the reader along with an excellent, gripping style. It is a book that everyone should read—and then pass on to others who need an explanation of the true gospel, especially those slaves of political correctness sadly found in many modern pulpits." — Erroll Hulse, pastor, conference speaker, author, and founding editor of Reformation Today
"In this well-ordered book, Jeremy Walker provides a straightforward presentation of what it is to become and live as a disciple of Jesus Christ. Following Christ is not a matter of secondary importance but should be of critical concern for every reader of this book. Each page is saturated with scriptural truths that are easy to read but challenging to apply regarding this vital subject of discipleship. I highly recommend this work, which is doctrinally sound, persuasively presented, and pastorally related." — Steven J. Lawson, senior pastor, Christ Fellowship Baptist Church, Mobile, Alabama
---
---
Gospel eBooks is a participant in the Amazon Services LLC Associates Program, an affiliate advertising program designed to provide a means for sites to earn advertising fees by advertising and linking to amazon.com. View our
Privacy Policy
.