---
Join our list
Subscribe to our mailing list and get interesting stuff and updates to your email inbox.
Carved in Stone (The Blackstone Legacy Book #1)
Author(s): Elizabeth Camden
Publisher:  Bethany House Publishers
Price: $0.79  (Ends Nov 30)


Her gilded world holds a deeply hidden secret.
After years of tragedy, Gwen Kellerman now lives a quiet life as a botanist at an idyllic New York college. She largely ignores her status as heiress to the infamous Blackstone dynasty and hopes to keep her family's heartbreak and scandal behind her.
Patrick O'Neill survived a hardscrabble youth to become a lawyer for the downtrodden Irish immigrants in his community. He's proud of his work, even though he struggles to afford his ramshackle law office. All that changes when he accepts a case that is sure to emphasize the Blackstones' legacy of greed and corruption by resurrecting a thirty-year-old mystery.
Little does Patrick suspect that the Blackstones will launch their most sympathetic family member to derail him. Gwen is tasked with getting Patrick to drop the case, but the old mystery takes a shocking twist neither of them saw coming. Now, as they navigate a burgeoning attraction and growing danger, Patrick and Gwen will be forced to decide if the risk to the life they've always held dear is worth the reward.
Elizabeth Camden's writing is full of . . .
"Richly drawn characters and fascinating American history."– All About Romance
"Fabulous love stor[ies] wrapped around compelling historical events."–Booklist
"Adventuresome, entertaining romance."–Foreword Reviews
---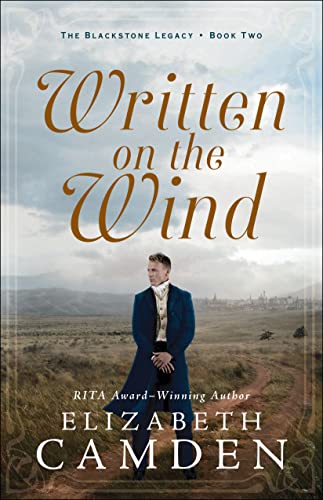 Written on the Wind (The Blackstone Legacy Book #2)
Author(s): Elizabeth Camden
Publisher:  Bethany House Publishers
Price: $2.39 (Ends Nov 30)


"Written on the Wind is a sweeping saga of a historical romance, enhanced by complex characters and riveting period detail. A fascinating read."–MIMI MATTHEWS, USA Today bestselling author of The Siren of Sussex
He carries a dangerous secret, but can he survive long enough to expose it?
Count Dimitri Sokolov has been charged with overseeing construction of the legendary Trans-Siberian Railway, but during this work, he witnesses an appalling crime, the truth of which threatens the Russian monarchy. In an effort to silence him, the czar has stripped Dimitri of his title, his lands, and his freedom . . . but Dimitri has one asset the czar knows nothing about: his deep and abiding friendship with Natalia Blackstone.
Natalia is the lead analyst for her father's New York banking empire and manages their investment in the Trans-Siberian Railway. Her bond with Dimitri has flourished despite the miles between them, but when Dimitri goes unexpectedly missing, she sets the wheels in motion to find him. Once they join forces, they embark on a dangerous quest in which one wrong move could destroy them both.
From the steppes of Russia to the corridors of power in Washington, Dimitri and Natalia will fight against all odds to save the railroad while exposing the truth. Can their newfound love survive the ordeal?
---
---
Gospel eBooks is a participant in the Amazon Services LLC Associates Program, an affiliate advertising program designed to provide a means for sites to earn advertising fees by advertising and linking to amazon.com. View our
Privacy Policy
.