---
Join our list
Subscribe to our mailing list and get interesting stuff and updates to your email inbox.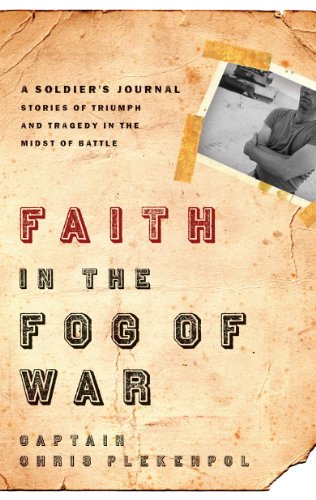 Author(s): Chris Plekenpol
Publisher: Multnomah
Price: $1.99 (Ends June 9)


War-Worn Faith
You want the flare of your faith to burn as intensely as a fire on the battlefield. That means digging into God's truth regardless of the chaos raging around you. These devotions are written by a man who had considered war something that someone else always did, and was then himself deployed to Iraq as a company commander. From the frontlines of the blackest days and in the face of inexplicable suffering, you'll discover the heart of the question, "Why, God?" and its often unsettling answer. Because in war, as in contemporary America , reality involves struggle, trial, and triumph. Let God meet you in the midst of life's nonsense to find the peace that is a crucial part of His impeccable plan.
Why, God?
War screams the same questions whispered in everyday life. The battlefield explodes with the same tenacity of emotions that wretch our souls. Smoke fills the air just as doubt clouds our minds.
Are you on the frontlines of war overseas? Or perhaps your battle is personal, deep within. These devotions, penned by Captain Chris Plekenpol while on the battlefield in Iraq, expose the depths of inexplicable suffering as well as the heights of incredible victory in God.
Through every adversity and in any circumstance, you will find a still voice reminding you of God's sovereignty…in war and peace.
"Faith forged in the crucible of combat! Chris Plekenpol is a warrior and he has compiled a great guide for victory in the battles we all face."
Oliver L. North
Host of "War Stories" on Fox News and author of The Assassins
"There is no theory here. Just the battle-tested insights of a soldier who has learned to trust his heavenly Father in the valley of the shadow of death. You are going to love this book."
Andy Stanley
Pastor, North Point Community Church
"Amazing encouragement from the heart of the battle!"
Louie Giglio
Passion Conferences
Story Behind the Book
"I began writing devotionals as both a preparation for seminary and as a ministry tool during my service in Korea . At first, I sent them only to a few people. Then, as I wrote more frequently, I received e-mails requesting my devotions. I continued writing during my deployment to Iraq , tackling such issues as life in combat as well as the triumph of God in the battle. My purpose in writing this book is to further God's work in my life by ministering to others through my experience in the heart of the battle." —Chris Plekenpol
---
---
Gospel eBooks is a participant in the Amazon Services LLC Associates Program, an affiliate advertising program designed to provide a means for sites to earn advertising fees by advertising and linking to amazon.com. View our
Privacy Policy
.