---
Join our list
Subscribe to our mailing list and get interesting stuff and updates to your email inbox.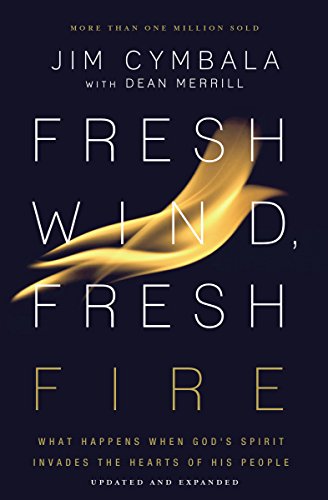 Fresh Wind, Fresh Fire: What Happens When God's Spirit Invades the Hearts of His People
Author(s):  Jim Cymbala
Publisher:  Zondervan
Price: $3.99 (Ends July 31)


MORE THAN ONE MILLION COPIES SOLD
For anyone seeking to live at the center of God's purposes, this well-loved book points the way to new spiritual vitality in the church and in your own life.
A classic must-read for readers looking for hope and transformation in the church today, Fresh Wind, Fresh Fire shows what the Holy Spirit can do when believers get serious about prayer and the gospel. As this compelling book reveals, God moves in life-changing ways – calling us back from spiritual dead ends, apathy, and lukewarm religion – when we set aside our own agendas, take him at his word, and listen for his voice.
Pastor Jim Cymbala knows from personal experience. Back in the early 1970s his own church, the Brooklyn Tabernacle, was a struggling congregation of twenty. Then they began to pray, God began to move, and street-hardened lives by the hundreds were changed with the love of Christ. Today, they are nearly ten thousand strong.
In this twentieth anniversary edition, Cymbala updates the classic stories, including that of his own daughter, Chrissy Cymbala Toledo. He talks about how the church has grown and how God helped the church move from its location on Flatbush Avenue to a larger facility that the growing church couldn't "afford" as God continues to dramatically reshape the life stories of so many people who encounter Christ and the power of the gospel. This message of hope and transformation continues.
Also available in Spanish, Fuego vivo, viento fresco.
---
The Spirit-Filled Life: Discover the Joy of Surrendering to the Holy Spirit
Author(s):  Charles F. Stanley
Publisher:  Thomas Nelson
Price: $2.99 (Ends July 31)


A wise, measured, and deeply passionate invitation to a Spirit-filled life
Are you trying your best to be a good Christian but still feel something's missing? Do the peace and joy you long for seem to elude you? Does following Christ sometimes feel like a lot of work—or like it's just not working very well?
Much has been written and spoken—and argued!—about the Holy Spirit and what it means to be filled with the Spirit. Charles Stanley cuts through the confusion and introduces you to a living Person as real and active as God the Father and Christ the Son. Through personal stories, biblical exploration, and insightful explanation, he will help you discover:
who the Spirit is—and how to develop a relationship with Him
who the Spirit isn't—and how to avoid damaging misconceptions
how being "filled" with the Spirit actually works
what the Bible really teaches about spiritual "signs" such as speaking in tongues
how the Spirit can increase your capacity for faith, hope, love, and personal transformation
what it means to "hear" the Spirit's voice
how to make the most of your unique spiritual gifting to build up Christ's body
what happens when the Spirit's power is unleashed in your workplace, your family life, your friendships, and every other area of your life
In The Spirit-Filled Life Charles Stanley reveals how to recognize and begin to live with the guiding presence of the Holy Spirit.
---
---
Gospel eBooks is a participant in the Amazon Services LLC Associates Program, an affiliate advertising program designed to provide a means for sites to earn advertising fees by advertising and linking to amazon.com. View our
Privacy Policy
.