---
Join our list
Subscribe to our mailing list and get interesting stuff and updates to your email inbox.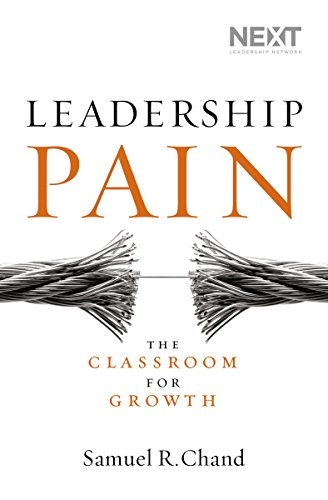 Leadership Pain: The Classroom for Growth
Author(s):  Samuel R. Chand
Publisher:  Thomas Nelson
Price: $3.99 ( Ends May 31)


Do you want to be a better leader? Raise the threshold of your pain. Do you want your church to grow or your business to reach higher goals? Reluctance to face pain is your greatest limitation. There is no growth without change, no change without loss, and no loss without pain. Bottom line: if you're not hurting, you're not leading.
But this book is not a theological treatise on pain. Rather in Leadership Pain Samuel Chand—best-selling author recognized as "the leader's leader"—provides a concrete, practical understanding of the pain we experience to help us interpret pain more accurately and learn the lessons God has in it for us.
Chand is ruthlessly honest and highly practical as he examines the principles and practices that make our pain a means of fulfilling God's divine purposes for our churches, communities, and us. These features are included in this leadership treasure trove:
POWERFUL, personal stories from some of the finest leaders in the world, such as Craig Groeschel, Benny Perez, Mike Kai, Lisa Bevere, Mark Chironna, Dale Bronner, Philip Wagner, Michael Pitts, and numerous others
REVEALING INSIGHTS into the growth that occurs through pain in leadership roles
PRACTICAL EXERCISES to help you apply the valuable principles you are learning
---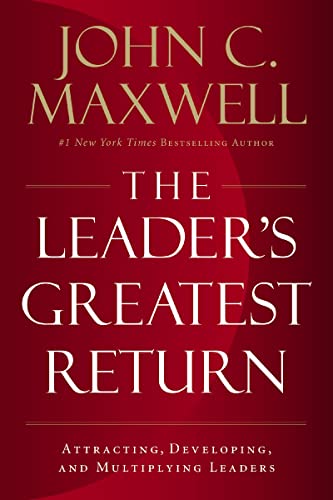 The Leader's Greatest Return: Attracting, Developing, and Multiplying Leaders
Author(s): John C. Maxwell
Publisher:  HarperCollins Leadership
Price: $3.99 ( Ends May 31)


Dive into a masterclass with world-renowned leadership expert John C. Maxwell as he shares the most important lessons he's learned about the leadership development process over the last quarter century.
What is the greatest return on a leader's time? After leaders have invested in their own leadership growth, what is the best way to accomplish their vision and grow their organizations? Develop other leaders! The more leaders an organization has and the better equipped they are to lead, the more successful the organization and its leaders.
In the last twenty-five years, New York Times bestselling author John C. Maxwell has grown from equipping a handful of leaders in one organization to developing millions of business, government, and nonprofit leaders in every country around the world. In this book, Maxwell takes the reader step-by-step through the process of identifying, attracting, empowering, and positioning leaders to create a culture capable of then reproducing and compounding the value of its leaders.
In The Leader's Greatest Return, you will be instructed on:
The Leadership Table – Create a place where people not yet leading at your level can come, be welcomed and try on leadership.
The 7 Motivators – Review the seven motivators and discover what motivates each person and then lead him or her accordingly.
Team Success – Use the 10-80-10 method to set people up for success and empower them to perform at a high level.
Who to Grow as a Leader – Love and value everyone but use the Pareto principle to choose who to grow as a?leader.
This is where leaders really experience the compounding value of developing leaders and go to the highest levels of leadership themselves. The Leader's Greatest Return is perfect for anyone who wants to take the next step in their leadership, build their organization or team today, and create their legacy for tomorrow needs to read.
---
---
Gospel eBooks is a participant in the Amazon Services LLC Associates Program, an affiliate advertising program designed to provide a means for sites to earn advertising fees by advertising and linking to amazon.com. View our
Privacy Policy
.