---
Join our list
Subscribe to our mailing list and get interesting stuff and updates to your email inbox.
A Hero for Miss Hatherleigh (Regency Brides: Daughters of Aynsley Book 1)
Author(s): Carolyn Miller
Publisher: Kregel Publications
Price: $1.99 (Ends Nov 25)


Can a very proper noble lady find a future with a fossil-hunting man of faith?
As the daughter of Viscount Aynsley, Caroline Hatherleigh knows every rule of society—and she's always followed them precisely. It's simply the way things are done in her world. When she visits south Devonshire and encounters a fossil-hunting scientist and his sister, her assumptions about what is right are shaken. She is suddenly confronted by questions she has never considered about the importance of friendship and faith—and her comfortable understanding about how the world works is thrown off balance.
Gideon Kirby loves science, and hunting down proof of past lives is a joy he won't willingly give up. But his scientific leanings are being challenged by both his personal beliefs and by local smugglers in the Devonshire countryside. And every day his sister's illness is becoming more desperate and her care grows more demanding. Adding a proper Viscount's daughter to the mix is a complication Gideon never expected—especially since he has a secret that demands he stays far away from this young woman he's falling for in order to protect his beloved sister.
When a mysterious stranger visits the village, that secret is set to be exposed, no matter how Gideon fights. Then tragedy strikes in a smugglers cave. And the threat of scandal may lead to broken hearts and passionless propriety. Will the shaky bond these two have managed to build be strong enough to overcome their differences—or will the trust they've withheld from each other end up tearing three lives apart?

---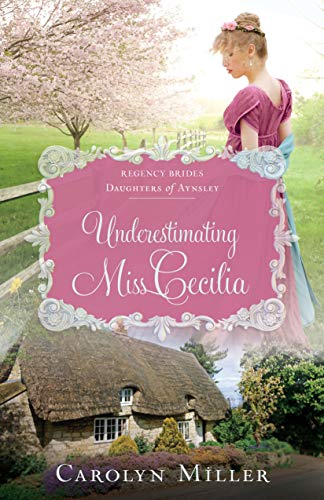 Underestimating Miss Cecilia (Regency Brides: Daughters of Aynsley Book 2)
Author(s): Carolyn Miller
Publisher: Kregel Publications
Price: $1.99 (Ends Nov 25)


Shy, sweet Cecilia Hatherleigh has always been in love with Edward Amherst, the boy next door. Yet he's never seen her as anything but the quiet girl in the background as he flirts with the other vivacious women of the ton.
When a near tragedy brings Edward's attention to his family duties, this prodigal son decides he needs to settle down with a proper wife. Cecilia hopes to convince him to choose her—but God may want her to forget the wayward nobleman and put her future in His hands alone.
These two try to find their way toward happiness, but prejudice, political riots, and the changing face of England's societal structures begin to block them at every turn. Can their struggles turn to triumph—or will their paths permanently diverge?
---
---
Gospel eBooks is a participant in the Amazon Services LLC Associates Program, an affiliate advertising program designed to provide a means for sites to earn advertising fees by advertising and linking to amazon.com. View our
Privacy Policy
.