---
Join our list
Subscribe to our mailing list and get interesting stuff and updates to your email inbox.
Author(s):
Enoch Burke
Publisher:
 N/A
Price:
$3.69
"This is the definitive critique of John Piper's Christian Hedonism and the new theology of Sam Allberry. A direct biblical approach… the best I've seen on the subject." – Dr. ES Williams, Author of The New Calvinists
Is NEW LANGUAGE on issues such as HOMOSEXUALITY a danger to the church today?
Martin Luther once said, "There is great danger in speaking of the things of God in a different manner and in different terms than God Himself employs."
John Piper and Sam Allberry are two of the most influential figures among evangelicals today. Both men have introduced new language into the church on salvation, sanctification, and the self-image of the Christian.
Serious questions, however, are raised by this trend. Many ask:
Is Piper's "Christian Hedonism" simply mysticism repackaged?
Are emotions more important than obedience?
Does Allberry's "same-sex attracted" label normalize homosexuality?
Is there a conspiracy to silence the church?
---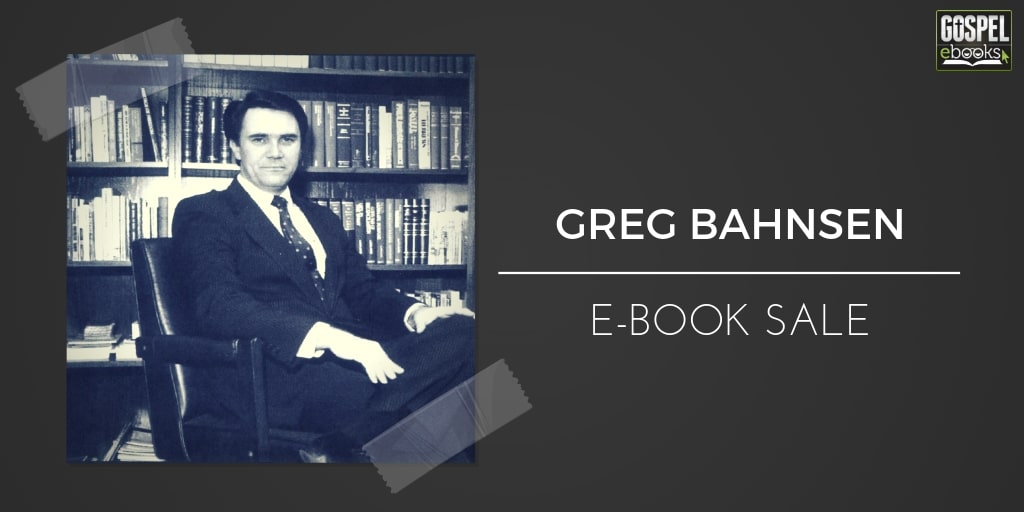 In this grab bag we have 5 e-books which were written by Greg Bahnsen. The prices that the publisher has provided are under each ebook cover.
---
Author(s): Brian Williams
Publisher: Destiny Image Publishers
Price: FREE (Ends Mar 15)


Controversy erupted when some churches chose to appoint openly gay pastors. Now questions are arising as to whether or not the body of Christ should recognize a "gay church." Scripture is quite clear on the matter of homosexuality. But how should someone minister to those in the gay and lesbian lifestyles? Williams supports the mantra of "love the sinner, yet detest the sin." Realize that a compassionate approach always means confronting the sin for what it is. To preach the Gospel of pure love, we must shun any deception that puts people in bondage.
---
In this grab bag we have 21 e-books from Zondervan which were written by various authors. The prices and sale dates that the publisher has provided are under each ebook cover.
[table "2863" not found /]
---
Author(s):
Sam Allberry
Publisher:
The Good Book Company
Price:
$2.99
(May 2-3)
It's the hot topic of the moment. Christians, the church and the Bible seem to be out of step with modern attitudes towards homosexuality. And there is growing hostility towards those who hold a different view. So is God homophobic? And what do we say, and how do we relate to to both Christians and non Christians who experience same-sex attraction.
In this short, simple book, Sam Allberry wants to help confused Christians understand what God has said about these questions in the scriptures, and offers a positive and liberating way forward through the debate.
---
Gospel eBooks is excited to partner together with Ambassador International to bring you our fourth on-air Google+ Hangout. This coming Tuesday July 2nd, we'd like to invite you to join us for a live interactive video chat with author Peter Hubbard. [RSVP HERE]
WHO IS PETER HUBBARD? Peter Hubbard is Teaching Pastor at North Hills Community Church in Taylors, SC, where he has communicated the truth of the scriptures since the church began in 1992. Peter appreciates the never- ending opportunities to engage with hurting people and to apply the hope of the gospel to the messy places of our lives. He has earned two masters degrees and is currently completing a doctor of ministry degree in pastoral counseling at Westminster Theological Seminary in Philadelphia. Peter and his wife Karen have been married for twenty-five years and have four children.
WHAT WILL WE BE DISCUSSING? His new book "Love into Light: The Gospel, The Homosexual and the Church" which was released earlier this month. You can watch the book trailer below and read some of his endorsements as well.
This comes at just the right time. . . . Those who live under Scripture are increasingly eager to put on humility, speak with and learn from those who experience same-sex attraction, and consider what all this means for life in Christ's Kingdom.
–Dr. Ed Welch, counselor and faculty member at CCEF
Powerfully insightful book. . . . I am not aware of a more valuable first resource to help shape our thinking on this very contemporary issue.
–Dr. Fred G. Zaspel, Calvary Baptist Seminary
PLANNING TO JOIN US? Please RSVP and invite your friends through the official Google+ event invitation (click YES under "Are you going?").
GIVEAWAY: We will be having a big giveaway to celebrate this Hangout. The grand prize winner will receive a brand new Kindle Paperwhite pre-loaded with Ambassador International's entire e-book library (over 100 books). The runner-up will receive a $25 Amazon.com gift card.
You can enter the giveaway via PunchTab below. If you'd like to better your odds there are actions you can take to receive additional entries.

This contest is open to anyone.
---
---
Gospel eBooks is a participant in the Amazon Services LLC Associates Program, an affiliate advertising program designed to provide a means for sites to earn advertising fees by advertising and linking to amazon.com. View our
Privacy Policy
.