---
The Hedonism and Homosexuality of John Piper and Sam Allberry
We're sorry but you missed this offer. It is no longer free or a deal.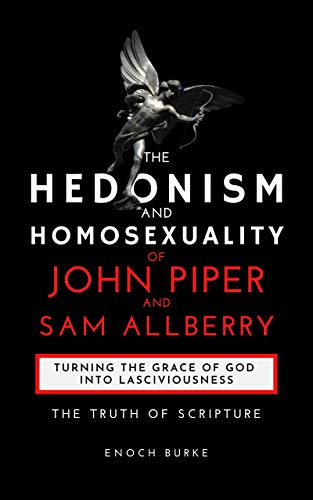 Author(s):
Enoch Burke
Publisher:
Burke Publishing
Price:
$3.99
"The is the definitive critique of John Piper's Christian Hedonism and the new theology of Sam Allberry. A direct biblical approach… the best I've seen on the subject." – Dr. ES Williams, Author of The New Calvinists
Is NEW LANGUAGE on issues such as HOMOSEXUALITY a danger to the church today?
Martin Luther once said, "There is great danger in speaking of the things of God in a different manner and in different terms than God Himself employs."
John Piper and Sam Allberry are two of the most influential figures among evangelicals today. Both men have introduced new language into the church on salvation, sanctification, and the self-image of the Christian.
Serious questions, however, are raised by this trend. Many ask:
Is Piper's "Christian Hedonism" simply mysticism repackaged?
Are emotions more important than obedience?
Does Allberry's "same-sex attracted" label normalize homosexuality?
Is there a conspiracy to silence the church?
Burke examines the teachings of Piper and Allberry, testing them by the standard of the Reformers' doctrine of Scripture. His book calls on the church to take hold of its mandate and recover its witness to the truth.
The Author
Enoch Burke holds a Bachelor of Theological Studies (TNARS), a Masters in Education, and a BA in History and Politics (NUI Galway). He is the author of The Pied Piper: Is John Piper and New Calvinism Destroying the Church? (Burke Publishing, 2018).
Enoch divides his time between Castlebar in the West of Ireland and the Irish Midlands. He has taught at second-level for over 10 years and is a former Auditor of the NUI Galway Christian Union.
Gospel eBooks is a participant in the Amazon Services LLC Associates Program, an affiliate advertising program designed to provide a means for sites to earn advertising fees by advertising and linking to amazon.com. View our
Privacy Policy
.