---
Join our list
Subscribe to our mailing list and get interesting stuff and updates to your email inbox.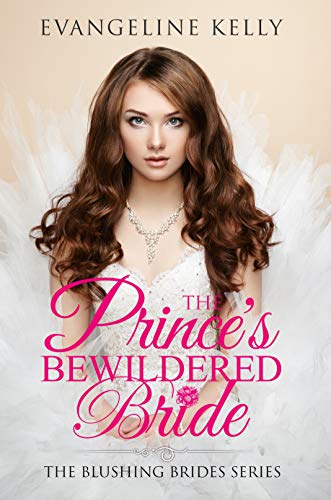 Author(s):
Evangeline Kelly
Publisher:
N/A
Price:
$2.99
They told her she married a prince. Too bad she couldn't remember the wedding…or anything else. Will her memories return in time to save her marriage or was it doomed from the beginning?
When Prince Edward of Calais received a note implicating his wife in an affair, he was furious. He'd only been married to Annette for three weeks, but she'd distanced herself from him almost as soon as they returned from their honeymoon.
Annette woke up disoriented, not knowing who she was or what happened to her. To make matters worse, someone shot her aunt and might be after her as well. Her relationship with Prince Edward seemed strained at best. After receiving a couple of threatening notes, she didn't know who she could trust.
She knew she was drawn to Edward—they clearly had chemistry—but he kept her at arm's distance. He was definitely hiding something.
Edward and Annette couldn't fight the pull they had to each other, but Edward had to decide if he could forgive Annette, and she had to determine if she could trust him. In a world where everything was not as it seemed, will love prevail or will their marriage go down in a ball of flames?
This is a Christian romance with themes of redemption and Bible references.
---
Author(s):
Evangeline Kelly
Publisher:
N/A
Price:
$2.99
She had a strict upbringing. He was in a motorcycle club. It wasn't enough to keep them apart.
Dex Mitchell was the heir to a billionaire manufacturing empire, but to step up to his rightful place in the business, he would have to embrace a relationship with the father who abandoned him…and that would never happen.
Brought up in an ultra-conservative home, Tirzah Olsson lived a sheltered life. Her parents had one goal: marry her off to a respectable man from their church, but Tirzah longed for real love and the freedom to make her own decisions.
When her soon-to-be-fiancé left her in a perilous situation, Dex Michell rode up on a Harley like a fierce hero, saving her from a near-assault. Once she climbed on the back of his bike, everything shifted for both of them.
Neither of them knew how to resist the pull they felt, but they were from two different worlds. It would never work.
Or so they said…
Good thing Dex, wasn't a stranger to taking risks…
*This is a contemporary Christian story with strong Biblical themes and Bible references.
---
Author(s):
Evangeline Kelly
Publisher:
N/A
Price:
$0.99
She put him firmly in the friendzone, but he wasn't giving up that easily.
Abby Summerhill had a type—the unattainable player. When a friend set her up with handsome science professor, Colin Fitzgerald, she couldn't believe her luck. He was tall, dark, and handsome, and made her stomach flip in the most amazing way. But something happened during the date that made her write him off completely, putting him firmly in the friend zone.
Colin might be handsome, smart, and extremely wealthy, but he couldn't have a conversation with a beautiful woman to save his life. As a mycologist, he spent more time buried in his research than out socializing, and he wasn't sure he had it in his DNA to make a woman happy. After his father's failed marriages, Colin didn't see the point in trying—until Abby.
What began as a friendship turned into something much more. Colin was faced with a decision: remain in self-protective mode or put himself on the line, loving the way that only Christ could love. Sometimes love hurts, but sometimes, it's the best thing that ever happens to you.
Ephesians 5:2 And walk in love, as Christ loved us and gave Himself up for us, a fragrant offering and sacrifice to God.
---
---
Gospel eBooks is a participant in the Amazon Services LLC Associates Program, an affiliate advertising program designed to provide a means for sites to earn advertising fees by advertising and linking to amazon.com. View our
Privacy Policy
.