---
Join our list
Subscribe to our mailing list and get interesting stuff and updates to your email inbox.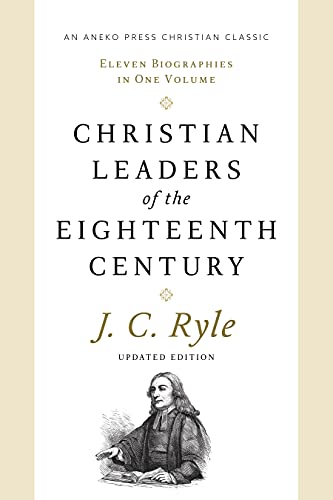 Author(s):
J. C. Ryle
Publisher:
Aneko Press
Price:
FREE
Biographies of George Whitefield, John Wesley, William Grimshaw, William Romaine, Daniel Rowlands, John Berridge, Henry Venn, Samuel Walker, James Hervey, Augustus Toplady, and John Fletcher.
The reader will soon discover that I am an enthusiastic admirer of the men whose lives and ministries I have narrated in this volume. I confess it honestly. I am a thorough admirer of them. I firmly believe that, with the exceptions of Martin Luther and his contemporaries and our own martyred Reformers, the world has not seen any such men since the days of the apostles. I believe there have not been any who have preached as much clear scriptural truth, none who have lived such lives, none who have shown such courage in Christ's service, none who have suffered as much for the truth, and none who have done as much good. If anyone can name better men, he knows more than I do.
My purpose in compiling these biographies was to present to the public the lives, characters, and work of the leading ministers whom God used to revive Christianity in England in the eighteenth century. I had long believed that these great men were not sufficiently known, and as a consequence, their value and merit had not been sufficiently recognized. I thought that the church and the world should know something more than they seem to know about such men as Whitefield, Wesley, Romaine, Rowlands, Grimshaw, Berridge, Venn, Toplady, Hervey, Walker, and Fletcher. For twenty years, I waited anxiously for some worthy account of these mighty spiritual heroes. At last I became weary of waiting, and I resolved to take the pen in my own hand and do what I could in the pages of this book.
---
---
Gospel eBooks is a participant in the Amazon Services LLC Associates Program, an affiliate advertising program designed to provide a means for sites to earn advertising fees by advertising and linking to amazon.com. View our
Privacy Policy
.