---
Morning by Morning: Daily Devotional Readings
We're sorry but you missed this offer. It is no longer free or a deal.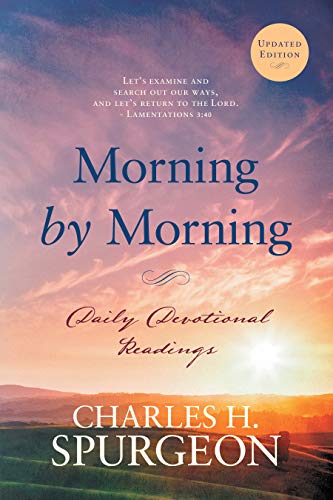 Author(s):
Charles Haddon Spurgeon
Publisher:
Aneko Press
Price:
FREE
Morning by Morning
Charles H. Spurgeon's devotionals Morning by Morning and Evening by Evening have inspired, encouraged, and challenged Christians for generations. Spurgeon, with his masterful hand, carefully selected his text from throughout the Bible and covered a broad range of topics, in order to present a well-balanced and fruitful daily devotional for readers both young and old.
Now updated into more-modern English for today's readers, and again separated into two volumes as originally published, with morning devotionals in one volume and evening devotionals in the second. We chose a 11-point font for the sake of legibility, and formatted the devotionals so each fits on a single page.
January 1
(Sample Devotional)
They ate some of the yield of the land of Canaan during that year. (Joshua 5:12)
Israel's weary wanderings were over, and the promised rest was attained. There would be no more moving tents, fiery serpents, fierce Amalekites, and howling wildernesses. They came to the land that flowed with milk and honey, and they ate some of the produce of the land (Joshua 5:11). Perhaps this year, beloved Christian reader, this may be your case or mine. The prospect is joyful, and if faith is active, it will yield absolute delight. To be with Jesus in the rest that remains for the people of God (Hebrews 4:9) is an encouraging hope indeed, and to expect this glory so soon is a double delight.
Unbelief shudders at the Jordan River that still flows between us and the good land, but let us rest assured that we have already experienced more affliction than death at its worst can cause us. Let us dispel every fearful thought and rejoice with exceedingly great joy in the prospect that this year we will begin to be forever with the Lord (1 Thessalonians 4:17).
A part of the multitude of saints will remain this year on earth to do service for their Lord. If we are in this group, there is no reason why the New Year's text should not still be true. We who have believed enter that rest (Hebrews 4:3). The Holy Spirit is the pledge of our inheritance. He gives us "glory begun below." In heaven they are secure, and on earth we are preserved in Christ Jesus. There they triumph over their enemies, and we have victories too. Celestial spirits enjoy communion with their Lord, and this is not denied to us here on earth. There they rest in His love, and here we have perfect peace in Him. They sing His praise in heaven, and it is our privilege to do the same here. We will gather celestial fruits on earthly ground this year, where faith and hope have made the desert like the garden of the Lord. Man ate angels' food long ago, and why can we not do so now?
O for grace to feed on Jesus and to eat of the fruit of the land of Canaan this year!
About the Author
Charles Haddon (C. H.) Spurgeon (1834-1892) was a British Baptist preacher. He started preaching at age 16 and quickly became famous. He is still known as the "Prince of Preachers" and frequently had more than 10,000 people present to hear him preach at the Metropolitan Tabernacle in London. His sermons were printed in newspapers, translated into many languages, and published in many books.
Gospel eBooks is a participant in the Amazon Services LLC Associates Program, an affiliate advertising program designed to provide a means for sites to earn advertising fees by advertising and linking to amazon.com. View our
Privacy Policy
.