---
I'll Be Seeing You
We're sorry but you missed this offer. It is no longer free or a deal.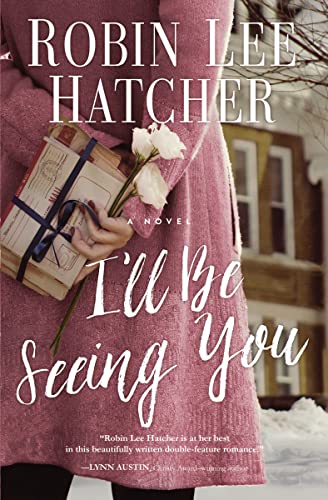 Author(s):  Robin Lee Hatcher
Publisher:  Thomas Nelson
Price: $1.99 (Ends Nov 13)


Generations of secrets unfold as a young college student learns the truth about her great-grandmother's World War II heartbreak and love. For fans of Francine Rivers and Karen Kingsbury.
Brianna Hastings's life seems dull and full of disappointment until a handsome young man visits her church. She's instantly smitten by the charming Greg, who leads an exciting, independent life—the kind of life she longs for. But when a college history assignment forces Brianna to interview her great-grandmother about life during World War II, she can't believe it when Daisy presses her with questions about Greg's character. "What sort of man is he? Who is he at his core?"
What could her great-grandmother possibly know about love at first sight?
The questions take both women back to Boise, Idaho, in the early 1940s, when war emphasized how fragile life could be. Daisy and her older sister pine for the same handsome bomber pilot—until one night of terrible judgment reveals their true characters and drives them apart. Trying to protect the people she loves the most, Daisy condemns herself to live a lie.
In the years that follow, as Daisy grapples with the consequences, she receives unexpected grace from a man she's known her whole life but never looked at twice. Could what she learned about love save Brianna from heartache three generations later?
Praise for I'll Be Seeing You
"Robin Lee Hatcher is at her best in this beautifully-written double-feature romance . . . This touching story shines light on the difference between romantic passion and true love. A sigh-worthy read." —Lynn Austin, Christy Award–winning author
"I'll Be Seeing You proficiently explores love, heartbreak, family, mistakes, and consequences, and Hatcher highlights that God's grace and mercy is with us even when we're certain we don't deserve it. I was hooked in chapter one and devoured this beautiful story in two sittings!" —Amy Clipston, bestselling author of The View from Coral Cove
"I love this book, and I read it in a day! Heartbreaking yet heartwarming, tender and touching—these characters came alive to me. Robin Lee Hatcher is one of my favorite novelists, and I'll Be Seeing You is one of her finest works!" —Tricia Goyer, USA TODAY bestselling novelist of A Secret Courage
Full-length split-time (WWII and contemporary) romance novel with strong themes of God's grace and redemption
Includes discussion questions for book clubs
Book length: 95,000 words
Also by Robin Lee Hatcher: Make You Feel My Love, How Sweet It Is, Cross My Heart, and Who I Am With You
Gospel eBooks is a participant in the Amazon Services LLC Associates Program, an affiliate advertising program designed to provide a means for sites to earn advertising fees by advertising and linking to amazon.com. View our
Privacy Policy
.