---
Headcovering Throughout Christian History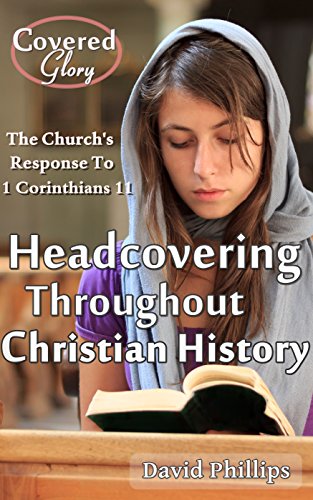 Author(s): David Phillips
Publisher: N/A
Price: $2.99

Have you ever wondered why, just two or three generations ago, Christian women often wore some sort of headcovering while in church? And why men in church always took off their hats when it was time to pray?
Indeed, it is well-documented that the use of headcoverings (during times of prayer) has been the norm for women throughout Christian history. Similarly, the prevailing standard was for Christian men to remove their hats when the local church gathered for prayer. Scripture itself provided for the longevity of these practices, both of which originate from the Apostle Paul's instructions in the book of First Corinthians. Within contemporary Western society, these practices have greatly declined (and often ceased) only within the last century.
"Headcovering Throughout Church History" is an overview of the Church's response to 1 Corinthians 11:2-16 across the last 2000 years of Christianity. It features the writings of the Early Church, Augustine, Martin Luther, John Bunyan, Charles Spurgeon, and many others. It also documents contemporary theologians & denominations that endorse the Church's historical stand on this passage of Scripture.
Now in Kindle format, this book contains the most comprehensive research currently available on this topic. Carefully referenced quotations allow you to hear from well over 50 theologians, pastors, and other Christian writers throughout Church history.
Gospel eBooks is a participant in the Amazon Services LLC Associates Program, an affiliate advertising program designed to provide a means for sites to earn advertising fees by advertising and linking to amazon.com. View our
Privacy Policy
.