---
Join our list
Subscribe to our mailing list and get interesting stuff and updates to your email inbox.
Hope Heals: A True Story of Overwhelming Loss and an Overcoming Love
Author(s):  Katherine and Jay Wolf
Publisher:  Zondervan
Price: $2.99 (Ends Apr 30)


When all seems lost, where can you find hope?
Katherine and Jay Wolf married right after college and sought adventure far from home in Los Angeles, CA. As they pursued their dreams–she as a model and he as a lawyer–they planted their lives in the city and their church community. Their son, James, came along unexpectedly in the fall of 2007, and just six months later, everything changed in a moment for this young family.
On April 21, 2008, as James slept in the other room, Katherine collapsed, suffering a massive brain stem stroke without warning. Miraculously, Jay came home in time and called for help. Katherine was immediately rushed into brain surgery, though her chance of survival was slim. As the sun rose the next morning, the surgeon proclaimed that Katherine had survived the removal of part of her brain, though her future recovery was uncertain. Yet in that moment, there was a spark of hope. Through forty days on life support in the ICU and nearly two years in full-time brain rehab, that small spark of hope was fanned into flame.
Hope Heals documents Katherine and Jay's journey as they struggled to regain Katherine's quality of life and as she relearned to talk, eat, and walk. As Katherine returned home with a severely disabled body but a completely renewed purpose, she and Jay committed to celebrating this gift of a second chance by embracing life fully, even though that life looked very different than they could have ever imagined.
As you uncover Katherine and Jay's remarkable story, you'll be encouraged to:
Find lasting hope in the midst of struggle
Embrace the unexpected
Welcome God's miracles into your everyday life
In the midst of continuing hardships, both in body and mind, Katherine and Jay found what we all long to find: a hope that heals the most broken place–our souls. Let Hope Heals be your guide along the way.
Praise for Hope Heals:
"As I read this book, tears streamed from my eyes even as joy flooded my heart. Jay and Katherine are a raw yet refreshing testimony to the unshakable trustworthiness of God amidst the unimaginable trials of life. This book reminds all of us where hope can be found in a world where none of us know what the next day holds."
–David Platt, author of the New York Times bestseller Radical and president of the International Mission Board
"Hope Heals is a beautiful, true story that illustrates the love and protection God has for us even in the darkest times of our lives. Katherine and Jay's dedication to each other and the Lord through their most devastating season is inspiring. This book will help your heart believe that He sees, He knows, He cares, and He is still working miracles today!"
–Lysa TerKeurst, New York Times bestselling author and president of Proverbs 31 Ministries
---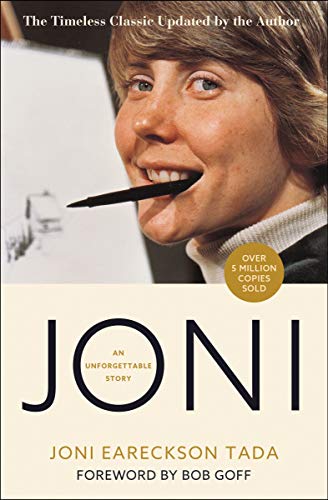 Joni: An Unforgettable Story
Author(s):  Joni Eareckson Tada
Publisher:  Zondervan
Price: $2.99 (Ends Apr 30)


One of the most beloved Christian autobiographies of modern times, Joni highlights the unforgettable story of a young woman's courageous struggle to find hope after a broken neck left her completely paralyzed.
On a hot July afternoon, Joni Eareckson Tada's life was dramatically altered in a split second. A reckless dive into shallow water took an athletic young woman from health and success to life as a quadriplegic in a wheelchair. In the forty-five years since the release of this book–which has more than five million copies in print in over forty languages–Joni's earnest struggle to find hope has resonated with millions of readers around the world. The hard-earned truths she shares in this special edition reveal the power of God's love to transform, as well as the triumph of faith over pain and suffering.
Joni's message has inspired people facing all types of challenges, helping them overcome their own limitations with a determined smile. In this updated edition, you will discover how to stay satisfied in God through disappointment and affliction. Filled with practical insights, Joni will help you find hope in every hardship.
This commemorative 45th anniversary edition features updated photos, as well as an all-new afterword in which Joni describes her current battle against two different cancers, her daily struggle with chronic pain, and the joys of leading a global outreach to people living with disability.
---
---
Gospel eBooks is a participant in the Amazon Services LLC Associates Program, an affiliate advertising program designed to provide a means for sites to earn advertising fees by advertising and linking to amazon.com. View our
Privacy Policy
.