---
Join our list
Subscribe to our mailing list and get interesting stuff and updates to your email inbox.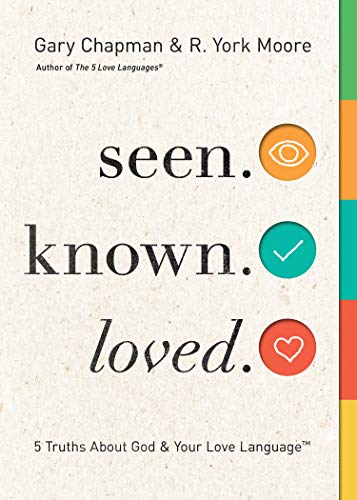 Seen. Known. Loved.: 5 Truths About God and Your Love Language
Author(s): Gary Chapman & R. York Moore
Publisher:  Northfield Publishing
Price: $3.99 (Ends Feb 14)


Could Your Love Language Guide You to a Meaningful Life?
In a world of varying beliefs and endless opportunities, determining how to spend our lives can seem impossible. And even more difficult than finding direction can be finding meaning. Perhaps we know what we're most interested in, but how do we know if it has purpose?
These longings are rooted in our desire to feel God's presence in our lives, which begins when we know how He communicates with us. Seen. Known. Loved. examines how God—the Creator of the universe—intimately communicates with each of His people. Relationships expert Gary Chapman and coauthor R. York Moore offer practical insights for how to know your own love language and how God uses it to communicate with you. When we come to understand our own unique love language, we discover how God both speaks and listens. And, therefore, how He is intimately involved in our lives in ways we have never before identified. The first step to living with meaning is living in union with our God—the source of meaning.
---
God Speaks Your Love Language: How to Experience and Express God's Love
Author(s): Gary Chapman
Publisher:  Northfield Publishing
Price: $5.99 (Ends Feb 14)


Feel God's love more personally.
Do you realize that the God of the universe speaks your love language, and your expressions of love for Him are shaped by your love language? Learn how you can give and receive God's love through the five love languages: words of affirmation, quality time, gifts, acts of service, and physical touch.
Gary Chapman writes, "As we respond to the love of God and begin to identify the variety of languages He uses to speak to us, we soon learn to speak those languages ourselves. Whatever love language you prefer, may you find ever deeper satisfaction in using that language in your relationship with God and with other people."
The book includes a brand new chapter on "Getting Out of Your Comfort Zone" which will teach you the joys of speaking a love language you're not used to with God.
No matter what love language you prefer, you will become more deeply connected with God and watch this bond transform all of your relationships.
Contains personal reflection questions and a study guide for groups
---
---
Gospel eBooks is a participant in the Amazon Services LLC Associates Program, an affiliate advertising program designed to provide a means for sites to earn advertising fees by advertising and linking to amazon.com. View our
Privacy Policy
.