---
Join our list
Subscribe to our mailing list and get interesting stuff and updates to your email inbox.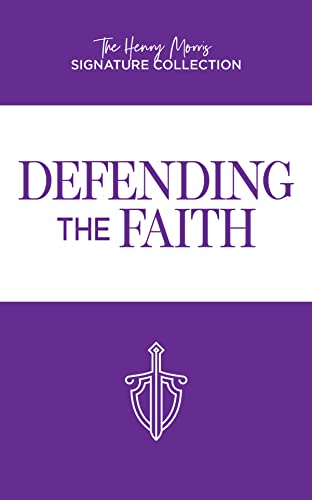 Author(s):
  Henry Morris
Publisher:
  Master Books
Price:
$2.99
(Sept 15-16)
EQUIP YOURSELF…AND BE READY TO GIVE AN ANSWER FOR YOUR FAITH
Examine scientific disciplines from a young earth and worldwide Flood approach
Identify the weaknesses in origin theories that ignore God
Learn how to rebut theories of atheistic scientism that compromise biblical truth
Have you ever been faced with an argument rejecting the doctrine of special creation and a global Flood? Were you left scrambling for an answer? In Defending the Faith, Henry Morris presents the evolutionary and Bible-compromising arguments for the origins of the earth and universe — then reveals their many flaws through sound evidence and logic. This book will prepare you to refute, both scientifically and biblically, evolutionary claims as well as "Christian" concepts such as the gap and day-age theories. Equipped with such knowledge, you will "be ready always to give an answer to every man that asketh you a reason of the hope that is in you" (1 Peter 3:15).
---
---
Gospel eBooks is a participant in the Amazon Services LLC Associates Program, an affiliate advertising program designed to provide a means for sites to earn advertising fees by advertising and linking to amazon.com. View our
Privacy Policy
.