---
Join our list
Subscribe to our mailing list and get interesting stuff and updates to your email inbox.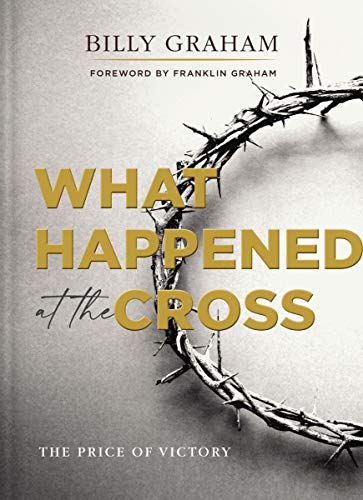 What Happened at the Cross: The Price of Victory
Author(s):  Billy Graham
Publisher:  Thomas Nelson
Price: $2.99 (Ends Aug 31)


The cross of Christ towers over 2,000 years of history. What happened on that hill called Calvary? In this compilation of his life's work, Billy Graham explains what Jesus accomplished on the day of his death, the meaning of his sacrifice, where he is now, the price of victory, and how to live with hope.
It's almost impossible to find one of Billy Graham's sermons that didn't focus on the incredible events that happened over 2,000 years ago on Mount Calvary, and that's because he centered his life and ministry around its message. In this special collection of the beloved evangelist's inspiring messages on the cross, discover simple yet profound truths that will change your life.
This one-of-a-kind message includes:
An exclusive foreword from Franklin Graham and afterword by Will Graham
More than 40 bonus pages of Scripture references pointing readers to what God's Word says about the cross and salvation
The Steps of Peace salvation plan from the Billy Graham Evangelical Association
Seven chapters of rich content explaining what happened at the cross; the price of victory; the meaning of the cross; the king's eternity, and how to live life with hope
Perfect for Christians seeking spiritual encouragement and a better understanding of the Gospel's message, What Happened at the Cross will help you better understand the meaning of the cross and equip you to proclaim the gospel in your Church, your community, and beyond.
---
Unto the Hills: A Daily Devotional
Author(s):  Billy Graham
Publisher:  Thomas Nelson
Price: $2.99 (Ends Aug 31)


No matter your place in life, this inspiring collection of 365 devotional readings is designed to bring you daily to a special place of renewal— to help you pause and gaze "unto the hills" for help and inspiration.
Each of the 365 daily readings in this inspiring collection was distilled from a lifetime of study and ministry. This devotional supplies daily food for thought about living fruitfully and joyfully in an often-fretful world.
Every day of the year, you can join our nation's most beloved spiritual leader for a moment of quiet and reflection through:
A carefully chosen passage of scripture
A brief, thoughtful message from Billy Graham
A heartfelt prayer composed especially for this devotional
Simple, direct, encouraging yet challenging, this book will be a heartening companion for your daily walk in the valley. This collection is a gentle but constant reminder that we can find help for all our needs as long as we remember to look up . . . unto the hills, but especially unto the Lord, the One who can always help.
---
---
Gospel eBooks is a participant in the Amazon Services LLC Associates Program, an affiliate advertising program designed to provide a means for sites to earn advertising fees by advertising and linking to amazon.com. View our
Privacy Policy
.