---
Join our list
Subscribe to our mailing list and get interesting stuff and updates to your email inbox.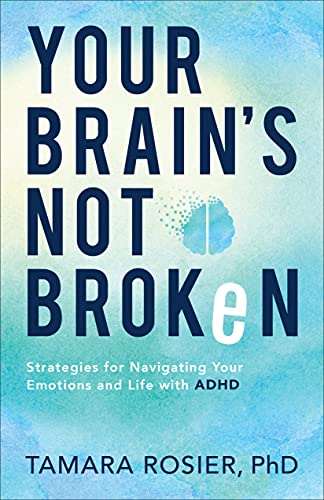 Your Brain's Not Broken: Strategies for Navigating Your Emotions and Life with ADHD
Author(s):  Tamara PhD Rosier
Publisher:  Revell
Price: $1.99 (Ends Aug 31)


If you have ADHD, your brain doesn't work in the same way as a "normal" or neurotypical brain does because it's wired differently. You and others may see this difference in circuitry as somehow wrong or incomplete. It isn't. It does present you with significant challenges like time management, organization skills, forgetfulness, trouble completing tasks, mood swings, and relationship problems.
In Your Brain's Not Broken, Dr. Tamara Rosier explains how ADHD affects every aspect of your life. You'll finally understand why you think, feel, and act the way you do. Dr. Rosier applies her years of coaching others to offer you the critical practical tools that can dramatically improve your life and relationships.
Anyone with ADHD–as well as anyone who lives with or loves someone with ADHD–will find here a compassionate, encouraging guide to living well and with hope.
---
Switch On Your Brain: The Key to Peak Happiness, Thinking, and Health
Author(s): Dr. Caroline Leaf
Publisher:  Baker Books
Price: $1.99 (Ends Aug 31)


According to researchers, the vast majority–a whopping 75-98 percent–of the illnesses that plague us today are a direct result of our thought life. What we think about truly affects us both physically and emotionally. In fact, fear alone triggers more than 1,400 known physical and chemical responses in our bodies, activating more than thirty different hormones! Today our culture is undergoing an epidemic of toxic thoughts that, left unchecked, create ideal conditions for illnesses.
Supported by current scientific and medical research, Dr. Caroline Leaf gives readers a prescription for better health and wholeness through correct thinking patterns, declaring that we are not victims of our biology. She shares with readers the "switch" in our brains that enables us to live happier, healthier, more enjoyable lives where we achieve our goals, maintain our weight, and even become more intelligent. She shows us how to choose life, get our minds under control, and reap the benefits of a detoxed thought life.
---
---
Gospel eBooks is a participant in the Amazon Services LLC Associates Program, an affiliate advertising program designed to provide a means for sites to earn advertising fees by advertising and linking to amazon.com. View our
Privacy Policy
.