---
Join our list
Subscribe to our mailing list and get interesting stuff and updates to your email inbox.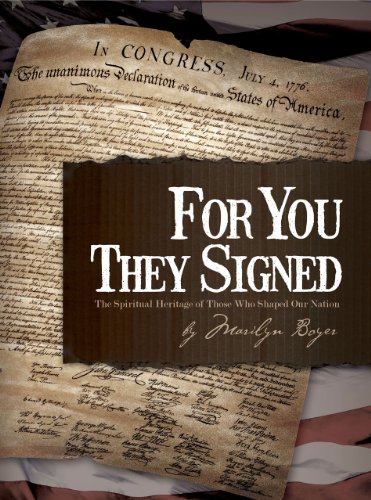 Author(s):
Marilyn Boyer
Publisher:
Master Books
Price:
$2.99
(Aug 11-12)
In 1776, 56 men signed their names on a document that they knew might well mean their certain deaths as traitors to England. Standing on principles of faith and liberty, these men forged a powerful call for freedom and human dignity still resonating today in America. Yet, historical revisionists have distorted or attempted to wipe away every trace of this nation's Christian heritage, including the heartfelt faith of these founding fathers.
More than simply facts and figures, For You They Signed provides an abundance of resources within one volume, including:
• A full year of life-changing, challenging family or group devotional character studies
• Over 90 illustrations, biographical summaries, and insightful quotes
• Character quality definitions, Patrick Henry's speech delivered to the signers, the Christian nature of state constitutions, and the Christian nature of America's universities.
The Declaration of Independence remains one of history's most enduring achievements, and this text will help you value those freedoms these men fought for in an insightfully fresh way. It will also assist you in catching the God-given vision of these faithful new Americans, igniting a fire for your family, community, and the generations to come. Here is a volume that should be found in every private and public library in America… a meticulously documented look back to the true birth of our nation.
They pledged their lives, their fortunes, and their sacred honor so that we could be free!
"This is certainly a work for 'such a time a this'… It is my prayer that this resource will find a way into every home so that this generation can know the sacrifice required to establish the God-inspired design of our nation." -Stanley John, Senior Vice President, Focus on the Family
---
---
Gospel eBooks is a participant in the Amazon Services LLC Associates Program, an affiliate advertising program designed to provide a means for sites to earn advertising fees by advertising and linking to amazon.com. View our
Privacy Policy
.