---
Join our list
Subscribe to our mailing list and get interesting stuff and updates to your email inbox.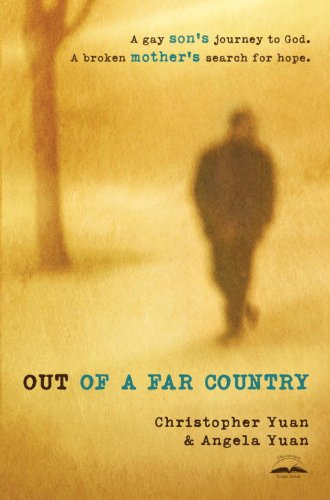 Out of a Far Country: A Gay Son's Journey to God. A Broken Mother's Search for Hope
Author(s): Christopher Yuan & Angela Yuan
Publisher: Waterbrook Press
Price: $3.99 DEAL EXPIRED


Over 100,000 copies sold!
Coming Out, Then Coming Home
Christopher Yuan, the son of Chinese immigrants, discovered at an early age that he was different. He was attracted to other boys. As he grew into adulthood, his mother, Angela, hoped to control the situation. Instead, she found that her son and her life were spiraling out of control—and her own personal demons were determined to defeat her.
Years of heartbreak, confusion, and prayer followed before the Yuans found a place of complete surrender, which is God's desire for all families. Their amazing story, told from the perspectives of both mother and son, offers hope for anyone affected by homosexuality.
God calls all who are lost to come home to him. Casting a compelling vision for holy sexuality, Out of a Far Country speaks to prodigals, parents of prodigals, and those wanting to minister to the gay community.
"But while he was still a long way off, his father saw him and felt compassion, and ran and embraced him and kissed him." – Luke 15:20
Includes a discussion guide for personal reflection and group use.
---
A War of Loves: The Unexpected Story of a Gay Activist Discovering Jesus
Author(s): David Bennett
Publisher: Zondervan
Price: $2.99 (Ends June 30)


At 14, David Bennett came out to his parents.
At 19, he encountered Jesus Christ.
At that moment, his life changed forever.
As a young gay man, David Bennett saw Christianity as an enemy to freedom for LGBTQI people, and his early experiences with prejudice and homophobia led him to become a gay activist. But when Jesus came into his life in a highly unexpected way, he was led down a path he never would have predicted or imagined.
In A War of Loves, David recounts his dramatic story, from his early years exploring new age religions and French existentialism to his university experiences as an activist. Following supernatural encounters with God, he embarked on a journey not only of seeking to reconcile his faith and sexuality but also of discovering the higher call of Jesus Christ.
A War of Loves investigates what the Bible teaches about sexuality and demonstrates the profligate, unqualified grace of God for all people. David describes the joy and intimacy he found in following Jesus Christ and how love has taken on a radically new and far richer meaning for him.
---
---
Gospel eBooks is a participant in the Amazon Services LLC Associates Program, an affiliate advertising program designed to provide a means for sites to earn advertising fees by advertising and linking to amazon.com. View our
Privacy Policy
.