---
Join our list
Subscribe to our mailing list and get interesting stuff and updates to your email inbox.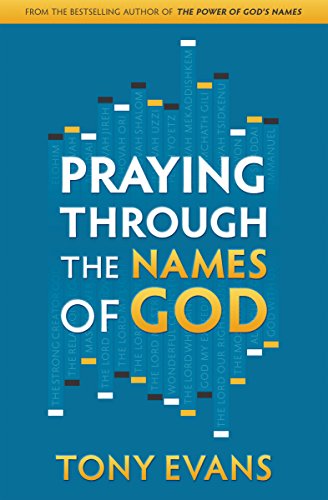 Praying Through the Names of God
Author(s): Tony Evans
Publisher: Harvest House Publishers
Price: $2.99 (Ends Oct 1)


Through the names of God, you gain insight into God's character—and how each name represents a facet of His being that He wants you to know and trust. For instance, when you understand that Jehovah Jireh means "the Lord your provider," you can be assured of God's provision for you.
In Praying Through the Names of God, Dr. Tony Evans reveals fascinating insights into some of God's powerful names and offers you a chance to benefit personally by providing several prayers based on those names. Your prayer life will be revitalized as you connect your needs and requests with the specific characteristic of God's name relevant to your need.
---
The Power of God's Names
Author(s): Tony Evans
Publisher: Harvest House Publishers
Price: $3.99 (Ends Oct 1)


In his exciting new book, bestselling author Dr. Tony Evans shows that it's through the names of God that the nature of God is revealed to us. Who is God in His fullness? How has He expressed His riches and righteousness? How can you trust His goodness? As you get to know the names of God and understand their meaning, God's character will become real to you in life-changing ways. You will explore the depths of God as Elohim: The All-Powerful Creator; Jehovah: The Self-Revealing One; Adonai: The Owner of All; Jehovah-Jireh: The Lord Who Provides; El Shaddai: The Almighty Sufficient One; El Elion: The Most High Ruler; Jehovah Nissi: The Lord's Banner of Victory; Jehovah Shalom: The Lord Our Peace; Jehovah Mekadesh: The Lord Who Sanctifies; Jehovah Rophe: The Lord Who Heals; Jehovah Tsikenu: The Lord My Righteousness; Jehovah Robi: The Lord My Shepherd; and Immanuel: God With Us. By studying and understanding the characteristics of God as revealed through His names, you will be better equipped to face hardship and victory, loss and provision, and all of the challenges life throws at you.
---
---
Gospel eBooks is a participant in the Amazon Services LLC Associates Program, an affiliate advertising program designed to provide a means for sites to earn advertising fees by advertising and linking to amazon.com. View our
Privacy Policy
.