---
Join our list
Subscribe to our mailing list and get interesting stuff and updates to your email inbox.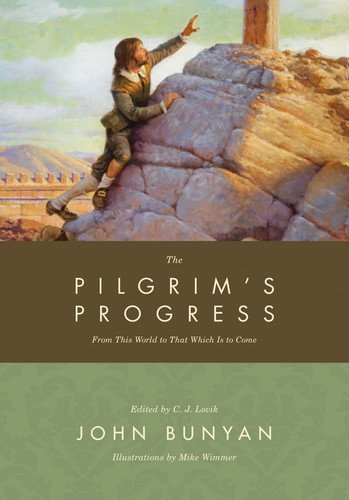 Author(s): John Bunyan
Publisher: Crossway Books
Price: $2.99

Thirty all-new, full-page, color illustrations and edited text for ease of reading make this the edition of John Bunyan's classic allegorical tale to own and to give.
For more than three centuries both Christians and non-Christians, young and old, have been fascinated by the characters and story of John Bunyan's The Pilgrim's Progress: From This World to That Which Is to Come-regarded as one of the most significant works of English literature. While keeping the dignity and beauty of Bunyan's language, editor C. J. Lovik has updated words and phrases for today's readers.
This deluxe edition of Pilgrim's Progress brought to life in forty all-new, full-page, color illustrations by award-winning illustrator Mike Wimmer, takes readers on a visually stunning journey with protagonist Christian as he seeks the Celestial City. Along the way, readers encounter Evangelist, Mr. Worldly Wisdom, the Interpreter, Hypocrisy, Watchful, Faithful, Talkative, Hopeful, Ignorance, and others. Through word and picture, readers will better understand the obstacles and encouragements they will face as they live out the Christian life this side of heaven.
---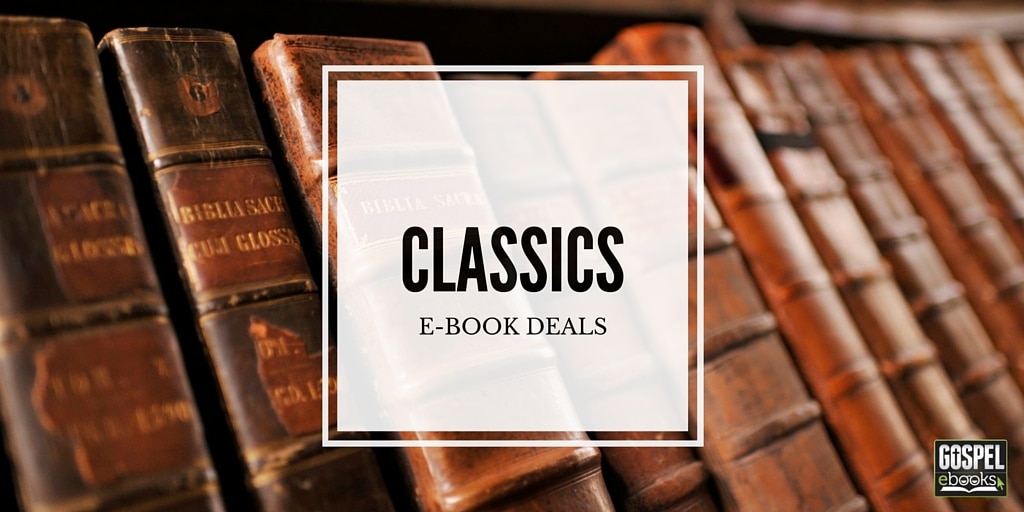 In this grab bag, we have 3 e-books from GLH Publishing. The prices that they have provided are under each book cover.

---
In this grab bag we have 4 e-books from B&H Publishing. The prices and sale dates that the publisher has provided are under each ebook cover.
[table "4376" not found /]
---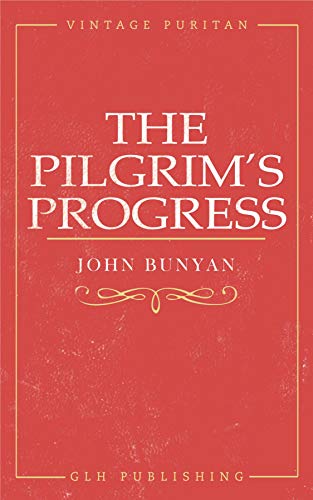 Author(s): John Bunyan
Publisher: GLH Publishing
Price: $1.99

Often rated as important as the Bible as a Christian document, this famous story of man's progress through life in search of salvation remains one of the most entertaining allegories of faith ever written. Set against realistic backdrops of town and country, the powerful drama of the pilgrim's trials and temptations follows him in his harrowing journey to the Celestial City.
Along a road filled with monsters and spiritual terrors, Christian confronts such emblematic characters as Worldly Wiseman, Giant Despair, Talkative, Ignorance, and the demons of the Valley of the Shadow of Death. But he is also joined by Hopeful and Faithful.
An enormously influential 17th-century classic, universally known for its simplicity, vigor, and beauty of language, The Pilgrim's Progress remains one of the most widely read books in the English language.
---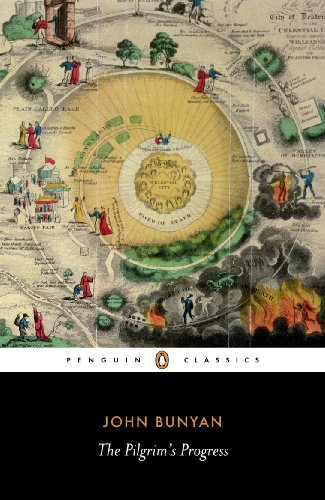 Author(s): John Bunyan
Publisher: Penguin
Price: $1.99

Bunyan wrote the first part of The Pilgrim's Progress when he was in prison for conducting unauthorised Baptist religious services outside of the Church of England. It was published in 1678; the second part was published in 1684. In Bunyan's hands a pious tract is transformed into a work of imaginative literature whose influence, both indirectly on the English consiousness and directly on the literature that followed, has been immeasurable. The rich countryman's phrases that Bunyan borrowed or invented have become enshrined in the language, and many of the characters he created to people his imaginary world have won for themselves an independent and unforgettable existence.
---
Author(s): John Bunyan & Cheryl V. Ford
Publisher: Tyndale House Publishers
Price: $3.78

What does walking with Jesus look like in this life?
The Pilgrim's Progress is one of the greatest Christian classics of all time, answering that question and illustrating the deepest struggles Christians face as they walk with God in this life. Since its publication in 1678, it has been the most widely read Christian book other than the Bible. From the dark confines of a prison cell, John Bunyan wrote a book that transformed not only his experience but that of millions after him. C. S. Lewis described it as "a book that has astonished the whole world." Today, the power of the original book is often lost on twenty-first century readers. This edition provides a fresh and faithful rendering of this enduring Christian classic in today's English.
Experience a deepening of your faith as you journey along the pilgrim's path!
---
Author(s): John Bunyan
Publisher: B&H Publishing
Price: $3.78

The Pilgrim's Progress was written by John Bunyan in 1678 and is an allegory on the Christian life. It is regarded by many as one of the most significant religious works ever written. This publication gives an added layer by providing thought provoking questions at the end of each chapter, to encourage the reader to dig deeper into the biblical truths present in this classic piece of literature.
---
---
Gospel eBooks is a participant in the Amazon Services LLC Associates Program, an affiliate advertising program designed to provide a means for sites to earn advertising fees by advertising and linking to amazon.com. View our
Privacy Policy
.