---
Join our list
Subscribe to our mailing list and get interesting stuff and updates to your email inbox.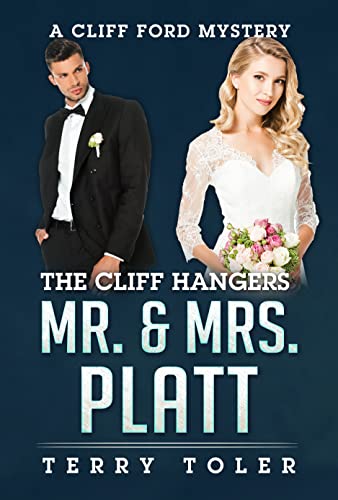 Author(s):
Terry Toler
Publisher:
 N/A
Price:
$3.99
WHAT COULD GO WRONG ON THEIR WEDDING NIGHT?
Mr. and Mrs. Platt are married at a big ceremony in Chicago. They spend their wedding night in the honeymoon suite of a five-star hotel in downtown Chicago. Robert Platt picks up his wife on the balcony to carry her over the threshold and back into their honeymoon suite. Instead, he tosses her over the railing and sends her plunging twenty-three stories to her death.
Homicide detective Cliff Ford is called to the scene. It's inconceivable to him that a man would kill his bride on their honeymoon night. His skills are challenged as he must unlock the mystery behind a devious mind. A man who has killed before. And will kill again, if Cliff doesn't stop him.
Book Two of the Cliff Hangers has everything best-selling and award-winning author, Terry Toler, is known for. Romance. Intrigue. Mystery. Suspense. Danger. And an ending you won't see coming.
---
Author(s):
Terry Toler
Publisher:
 N/A
Price:
$4.99
SOME THINGS AREN'T AS THEY SEEM.
A mysterious woman. A dead body. A gripping mystery from International #1 Best Selling Author, Terry Toler.
Cliff Ford is trying to move on from his past. Now he's in a fight for his future. He meets a mysterious woman in a coffeeshop. Anna. A connection is made. He feels an immediate spark. Something he hasn't felt in over a year. Since his wife was killed by a drive by shooter.
Cliff is a homicide detective in Chicago. He's summoned to the morgue and is shocked to find the body of a woman, a Jane Doe, who looks exactly like Anna!
Are they the same person? Is it possible?
The mystery sends Cliff deep into the heart of a gang called the Strikers. His life is in danger and he risks even his own job to find the truth. Complicated by a blond-haired woman who is leaving dead Strikers at every turn.
---
---
Gospel eBooks is a participant in the Amazon Services LLC Associates Program, an affiliate advertising program designed to provide a means for sites to earn advertising fees by advertising and linking to amazon.com. View our
Privacy Policy
.