---
The Cliff Hangers: Mr. & Mrs. Platt
We're sorry but you missed this offer. It is no longer free or a deal.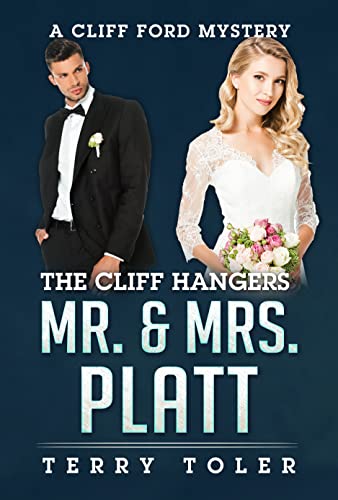 Author(s):
Terry Toler
Publisher:
 N/A
Price:
$3.99
WHAT COULD GO WRONG ON THEIR WEDDING NIGHT?
Mr. and Mrs. Platt are married at a big ceremony in Chicago. They spend their wedding night in the honeymoon suite of a five-star hotel in downtown Chicago. Robert Platt picks up his wife on the balcony to carry her over the threshold and back into their honeymoon suite. Instead, he tosses her over the railing and sends her plunging twenty-three stories to her death.
Homicide detective Cliff Ford is called to the scene. It's inconceivable to him that a man would kill his bride on their honeymoon night. His skills are challenged as he must unlock the mystery behind a devious mind. A man who has killed before. And will kill again, if Cliff doesn't stop him.
Book Two of the Cliff Hangers has everything best-selling and award-winning author, Terry Toler, is known for. Romance. Intrigue. Mystery. Suspense. Danger. And an ending you won't see coming.
Other Books in the Mystery Series
Anna
The Quarterback
Read more books from Terry Toler in the International Best Selling Jamie Austen Thriller Series:
Save The Girls
The Ingenue
Saving Sara (Finalist for 2021 Best Book Award for Thrillers and Adventure)
Save The Queen
No Girl Left Behind
Body Count
Save Me Twice
Powerful Enemies
Deadly Games
Don't Be Careful
Do you like Christian Fantasy and Suspense? Check out the Eden Stories:
The Longest Day (Winner of 2021 Best Book Award for Religious Fiction)
The Reformation of Mars
The Late Great Planet Jupiter (Finalist for 2021 Best Book Award for Religious Fiction)
Saturn: The Eden Experiment
The Great Wall of Ven-Us
The Mercury Protocols
BeHoldings Publishing
Clean Fiction With a Message
Terry Toler can be followed at terrytoler.com.
Gospel eBooks is a participant in the Amazon Services LLC Associates Program, an affiliate advertising program designed to provide a means for sites to earn advertising fees by advertising and linking to amazon.com. View our
Privacy Policy
.