---
Join our list
Subscribe to our mailing list and get interesting stuff and updates to your email inbox.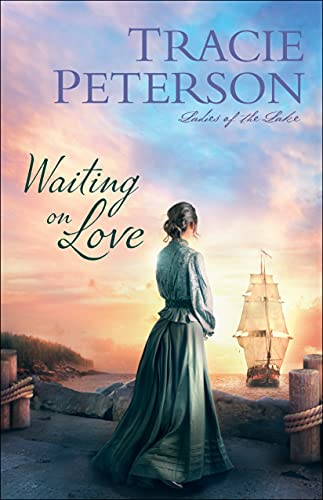 Author(s): Tracie Peterson
Publisher: Bethany House Publishers
Price: $3.99

She's made big promises. It'll take everything she's got to keep them.
Crisscrossing the Great Lakes onboard her father's freighter ship, the Mary Elise, Elise Wright has grown up cooking and caring for the crew. It is a life she loves. Unlike her estranged sister, Elise has turned down numerous opportunities for a "respectable life" with their wealthy relatives. And now, because of promises she made to her dying mother, she's bound to the ship and her deeply grieving father more than ever.
Nick Clark is grateful to be hired on as the Mary Elise's first mate as he works to overcome his own guilt and others' censure for a fatal decision he made captaining another ship. He feels protective of the Wrights and their generous natures, especially when a rough new sailor seems intent on causing serious trouble.
As the sailor's misdeeds grow, tragedy swells up from another corner. Left to pick up the pieces of the commitments they've made to themselves and to each other, Nick and Elise will have to rely on their faith to see them through.
---
Author(s): Tracie Peterson
Publisher: Bethany House Publishers
Price: $4.99 (Jan 1 Only)


Can she withstand the storms of life that blow her way?
Gloriana Womack's family is much smaller since scarlet fever killed her mother and two of her siblings. She's dedicated her modest life in Duluth, Minnesota, to holding the remains of her fractured family together, caring for her father and younger brother. But it is hard not to be overrun by worry when her father is often gone on long fishing trips, their livelihood coming from the waters of the temperamental and sometimes deadly Lake Superior.
Luke Carson has come to Duluth to help shepherd the arrival of the railroad to the city's port, and he's eager to be reunited with his brother and sister-in-law, who recently moved there and are expecting their first child. Competition for the railroad is fierce, with the neighboring city of Superior, Wisconsin, fighting for the tracks to come through their town instead. But the real danger lies in a man who has followed Luke across the country with revenge on his mind.
---
---
Gospel eBooks is a participant in the Amazon Services LLC Associates Program, an affiliate advertising program designed to provide a means for sites to earn advertising fees by advertising and linking to amazon.com. View our
Privacy Policy
.