---
Join our list
Subscribe to our mailing list and get interesting stuff and updates to your email inbox.
From the Amazon.com main page:
Dear Customers,
We believe in the power and importance of reading. We are passionate about books. Books convey knowledge, spread ideas, and can transport you into alternate lives and worlds. It's why we're working so hard to help people read more and get more out of reading.
Today we're excited to announce another milestone in our journey—the all-new Kindle Paperwhite.
The new Paperwhite is our best ever, with a new higher contrast display, the next generation of our built-in light, a powerful new processor, and the latest touchscreen technology.
We've also added new reading features like Page Flip—skim books page-by-page, or skip through chapters without losing your place. We've integrated Goodreads—the world's largest community of book lovers—so you can connect with like-minded readers, share recommendations and decide what to read next, straight from your book. Our new Vocabulary Builder automatically compiles words you look up in the dictionary into easy-to-use flashcards. And for parents, Kindle FreeTime offers a simple, engaging new way to encourage and reward kids' reading.
Kindle is the best-selling e-reader in the world for six years running. No one is investing on behalf of readers or pushing the boundaries of hardware, software, and content for readers like the Kindle team. We continue to invest not only in new hardware like the new Kindle Paperwhite, but also in new features and benefits that make Kindle a superior service: Kindle MatchBook, Kindle Owners' Lending Library, over 400,000 books that are exclusive to the Kindle Store, Kindle Singles, Kindle Worlds, and many more.
We hope you enjoy the new Kindle Paperwhite. Happy reading,
---
When Amazon releases a new device, it's always introduced to residents of the United States first. Canadians who have wanted to get their hands on these devices have had to rely on creative methods. If driving across the border isn't feasible, many Canadians choose to buy and ship a Kindle to an American friend who turns around and ships it to them.
I'm excited to announce that as of today Canadians can finally order the new Kindle Paperwhite without an American middle-man. They are now available in the Canadian store in standard and 3G models.
PURCHASE LINKS: Kindle Paperwhite ($139) / Kindle Paperwhite 3G ($199) / Kindle ($89)
Read the full press release from Amazon here.
---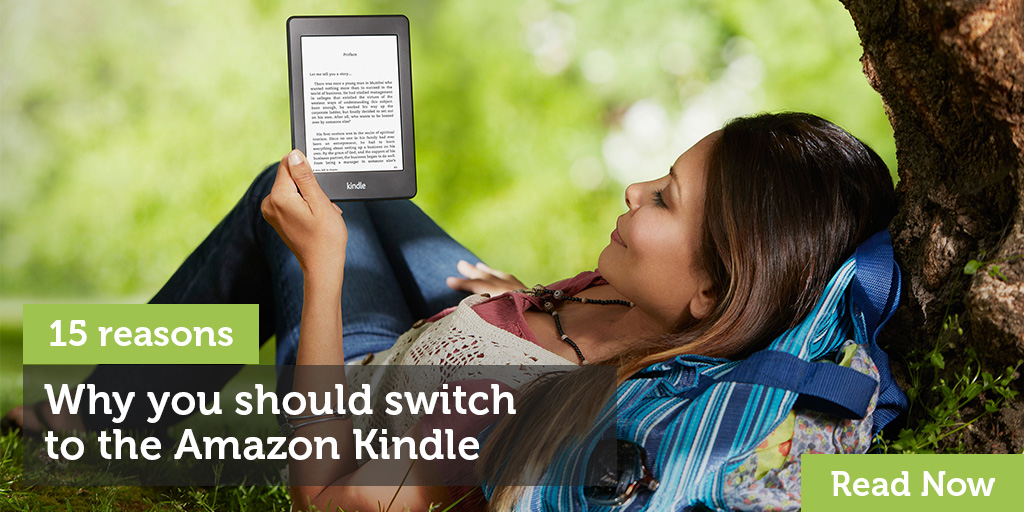 15 REASONS WHY YOU SHOULD BUY A KINDLE.
15. Permanent Storage
All your books are stored on Amazon's servers. If you have a paper book library it can be destroyed through fire, natural disasters or regular wear-and-tear. With the Kindle you'll never lose or damage your library (even if you lost your device).
14. Family Book Sharing
Want to read a book with your spouse or kids? With paper books you'd have to buy multiple copies or wait until one of you finished the book. With Family Book Sharing you can both read the same book at the same time on a different device. Say goodbye to buying multiple copies.
13. Massive Selection
Amazon has more than 3.6 million Kindle books (and counting) to choose from. There's also many out-of-print books available which you won't be able to find elsewhere. You can also discover up-and-coming authors that have chosen to release their publication as an e-book only.
12. Book Lending
Lend eligible Kindle books to other Kindle or Kindle app users. Each book can be lent once for a period of 14 days. Also, over 11,000 libraries in the United States now let you borrow Kindle books.
11. Book-like experience
The Kindle (except Kindle Fire) screen uses a revolutionary technology called "E-Ink" which mimics the paper reading experience. There is no glare (you can read it in the sun) and you won't experience eye-strain. Switching from paper to e-books will be an easy transition for those that choose Kindle.
10. Mobility
Can't decide what books to bring on your trip? Why should you have to choose? Bring your whole library! Moving again? No problem. With Kindle say goodbye to overweight suitcases and packing up heavy boxes of books. The Kindle is lighter than a paperback.
09. Font Size Adjustable
Do you remember books in "Large Print edition"? The Kindle lets you increase or decrease the font size easily on all your books.
08. Long Lasting Battery
Leave your screen on, it doesn't matter. The Kindle and Kindle Paperwhite battery lasts one and two months respectively before needing to be charged.
07. Social Sharing
Found a great quote that you'd like to share? Just highlight it and send it to your Twitter or Facebook profile. Kindle makes sharing great quotes and books easy.
06. Read it NOW
Instant delivery. No waiting for your book to arrive in the mail and say goodbye to shipping costs. Start reading your new book in less than 60 seconds.
05. Book Samples
Not sure if a book is worth purchasing? Amazon will let you read a nice size sample of any book for free to overcome that problem. They also have a no-hassle return policy if you buy a book and it's not what you were expecting.
04. Audiobook Syncing
Heading out for a jog or a drive but don't want to put down your book? Plug in your earphones and listen to a professional narration of your Kindle book at the exact spot you left off. When you're done you can continue reading where your audiobook stopped. No other device offers this revolutionary feature.
03. Your library is safe.
Amazon sells more Kindle books than hardcover & paperbacks combined. Kindle has the largest market share of e-books with 75% of the United States market and 95% of the UK. Build your e-book library with a company that will be here for the long haul.
02. Multi-Platform
Amazon is cross-platform. They allow you to read your books on the PC or Mac as well as all major smartphones and tablets. So you can start reading on your PC, continue where you left off on your iPhone and then retire to bed with your Kindle device.
01. Cheap Prices
Amazon is ALWAYS listing books that you want to read for free or at a steep discount. When you switch from paper to e-books you won't believe the savings.
| DEVICE | TYPE | PURCHASE |
| --- | --- | --- |
| KINDLE | E-INK | USA / CANADA |
| KINDLE PAPERWHITE | E-INK | USA / CANADA |
| KINDLE VOYAGE | E-INK | USA |
| KINDLE (FOR KIDS) | E-INK | USA |
| KINDLE FIRE | TABLET | USA |
| KINDLE FIRE 6 | TABLET | USA / CANADA |
| KINDLE FIRE 8 | TABLET | USA |
| KINDLE FIRE 10 | TABLET | USA |
| KINDLE FIRE (KIDS) | TABLET | USA |
While you're waiting for your device to arrive, don't forget to install free Kindle reading apps on your computer, smartphone and tablet.
---
---
Gospel eBooks is a participant in the Amazon Services LLC Associates Program, an affiliate advertising program designed to provide a means for sites to earn advertising fees by advertising and linking to amazon.com. View our
Privacy Policy
.