---
Join our list
Subscribe to our mailing list and get interesting stuff and updates to your email inbox.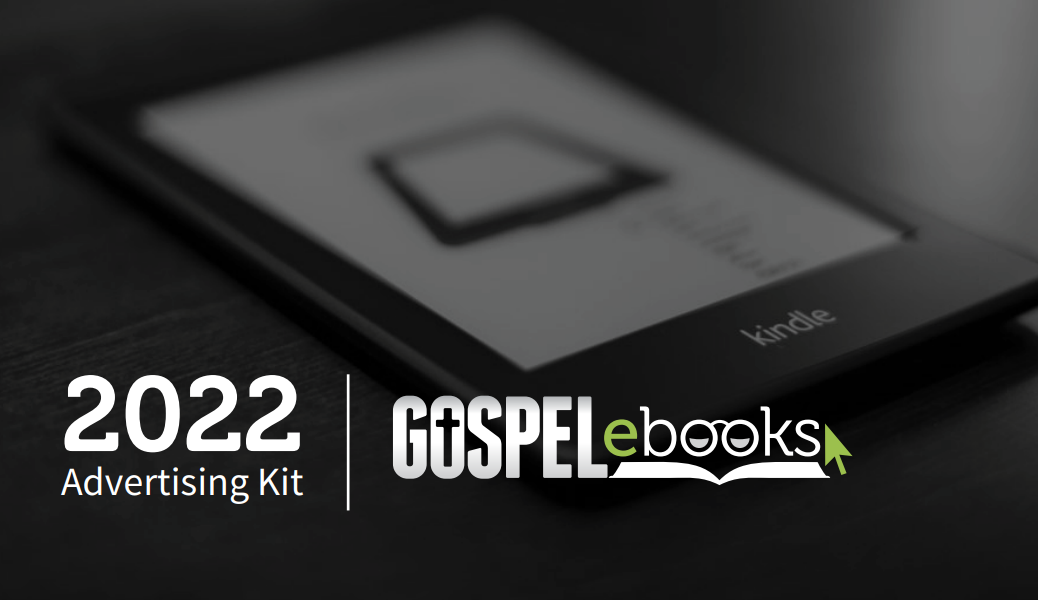 Today we are launching our brand new advertising kit which features both new and updated options. If you're looking to promote an e-book (or anything else) we have many great packages designed to help you reach a large Christian audience.
Click here to go to our advertising page which will detail all the available options. You'll also be able to flip through our 2022 ad kit there as well.
---
Eerdmans has provided 10 codes to redeem one of their audiobooks at Audible.com. You can view the full list here. Winners will be able to select the book of their choice. Enter now and perform extra actions for additional entries into the draw. Contest ends Sunday night at 11:59pm MST.
---
On October 31st, Amazon is releasing the All-New Kindle Oasis, their first waterproof E-reader.
Here are some of the selling features:
Our largest, highest resolution display— 7" and 300 ppi, reads like real paper without glare, even in bright sunlight.

The first waterproof (IPX8) Kindle so you are free to read in even more places.

Now with Audible, listen to the world's largest library of audiobooks. Pair with Bluetooth to take the story with you anytime, anywhere.

Thin and light ergonomic design with dedicated page turn buttons and adaptive front light so you can read even more comfortably for hours.

Keep reading—a single charge lasts weeks, not hours.

Enjoy twice the storage with 8 GB. Or choose 32 GB to hold more magazines, comics, newspapers, and audiobooks.
For more information or to pre-order visit this page.
---
Starting November 1st we're having a daily giveaway exclusive for our Facebook followers which will last the entire month. So if you're not connected with us head on over to our page and click "like".
Here is how the daily giveaway works: every day we share two posts (a link to the daily deals in the AM and a daily recap at night). If the two posts for any one day have a combined total of likes, shares, and/or comments that reach a specific number, that will unlock the giveaway for the day.
Here are the numbers and prizes:
100 likes, shares, or comments means we will gift

one person

who participated with an e-book of their choice that is currently active on Gospel eBooks.
250 likes, shares, or comments means we will gift

one person

who participated with an e-book of their choice on Amazon that is $10 or less.
500 likes, shares, or comments means we will gift 

three people

who participated with an e-book of their choice on Amazon that is $10 or less.
So if our AM post receives 35 likes, 5 comments, 10 shares and our PM post (for the same day) receives 25 likes, 10 comments, 15 shares (100 total over 2 posts) then that will unlock the first giveaway and one person will receive an e-book of their choice from our website. So make sure you "like" us (and we recommend enabling notifications) and then in November make sure you interact every day by liking, commenting, and/or sharing.
---
FAQ:
1. If I take more than one action do I receive more than one entry?
Yes, if you like, share, and comment then you will receive one entry for each action taken. So you can have up to six entries per day.
NOTE: Spam comments will not be counted and will be deleted. Shares must be public (see first answer on link) to count as an entry.
2. Do I need to live in the United States to win a prize?
No, our prizes are open to anyone in the world.
3. Can I win a prize more than once?
Yes, you can win every day. So in November you have 30 chances to win.
4. How will I know if I win?
On the following day of a giveaway that is activated, we will tag you on Facebook on the winning post and ask you to email us to claim your prize. Prizes must be claimed within 2 weeks.
If you need further clarification on this promo send us an e-mail.
---
Gospel eBooks was the first website to provide alerts for free and discounted Christian e-books. We keep track of which titles are on sale and then post a fresh list of deals for you every morning. We're here to save you time and money by pointing you to e-books that you actually want to read, at a fraction of the cost. To ensure you never miss another deal again (as many are on sale for just a day or two) we'd like to introduce you to the various ways you can subscribe to our deal alerts.
Before we explain the various ways you can get these alerts, in the table below you'll find a helpful summary of the various methods we have and how they differ in frequency of notification.
[table "1992" not found /]
HOW TO GET OUR ALERTS
Get Deal Alerts
Would you like to be alerted when our daily e-book deals are posted each morning? Subscribe below and you'll never miss a sale again.
FACEBOOK

You can receive our deal alerts via Facebook by "following" our page. We send out two posts per day (once in the morning and a re-cap post in the evening). Because of Facebook's algorithm you need to follow one important step to ensure you see our posts every day. Head on over to our Facebook page and then click "follow", then hover over the word "following" and click either "all on" (to get a Facebook notification when we post) and/or click "see first" (for us to show up in the top of your news feed). Then click the pencil icon to bring up the settings and make sure you select "posts" before clicking "done".

TWITTER

Every morning and evening we post one tweet which links to all of the deals for the day. To receive these alerts via Twitter just follow us @gospelebooks.
---
WHAT OTHERS ARE SAYING
Not following @gospelebooks is like burning books. Seriously, if you're not following them just go put your book allowance in the shredder.

— David Fischer (@Ebed_Hamelek) January 27, 2014
One of my favourite moments of every day is when my @gospelebooks digest arrives in my inbox.

— Wendy van Eyck (@wendyvaneyck) August 14, 2013
With @gospelebooks every day of the week its #cybermonday.

— Juan Paulo Martínez Menchaca 🇺🇸 🇲🇽 (@JPauloMartinez) November 25, 2012
don't be a fool. follow: @gospelebooks. it's one of the best things that's happened to me this year. #nolie

— Nicole Schara (@nicoleschara) September 28, 2012
@gospelebooks savings could within the last 4 months could buy another Kindle Fire. So thankful for the Lord's work you guys are doing.

— notrob 🇯🇵 (@notrob) April 29, 2012
---
We hope you've been enjoying all the free & discount e-books that we share with you daily. We enjoy doing this as a service to you.
If you're excited about your ever-expanding library that you've built for little to no money, we have a way for you to show others how they can do it too.
WE'D LIKE TO INVITE YOU TO
JOIN OUR STREET TEAM!
A street team is group of people who 'hit the streets' to let the public know about something awesome. We're looking for people like you, to spread the word about Gospel eBooks. We have posters and business cards that we'd like to mail you for FREE so that you can get the word out about these amazing e-book deals.
[table "425" not found /]

Here are a few ways that you can use these materials:
POSTERS
Posters are great for putting up on bulletin boards. Consider putting one up at 1) your home church 2) churches you visit 3) bible college/seminary where you study 3) local libraries 4) your workplace 5) conferences.
BUSINESS CARDS
Cards are great for handing out to people to let them know about the website. Give them to friends, family, co-workers, classmates and any person you know who reads (or needs to be reading) Kindle books. Consider leaving a stack of cards at information booths or other designated areas for promotional materials. If you give someone a Kindle for a gift, make sure to include a card.
@gospelebooks I'm starting a Bible study and giving your business cards for bookmarks – thanks! @fbcsaintfrancis pic.twitter.com/KTMXBjGFLy

— micah j. tanis (@mjtanis) March 5, 2013

Looking to join the street team? Just fill out this form and we'll mail out your requested materials. A very special thanks to you if you do (seriously).
---
Watch yesterday's Hangout with David Sitton below!
Congrats to Estefany Barreto for winning the contest!
---
---
Gospel eBooks is a participant in the Amazon Services LLC Associates Program, an affiliate advertising program designed to provide a means for sites to earn advertising fees by advertising and linking to amazon.com. View our
Privacy Policy
.