---
Join our list
Subscribe to our mailing list and get interesting stuff and updates to your email inbox.
Author(s): Jonathan Edwards
Publisher: GLH Publishing
Price: $1.50

Here is Jonathan Edwards' classic work on the freedom of the will, explaining its abilities and inabilities. A must read for any serious student of theology.
Includes hyperlinked footnotes and table of contents.
---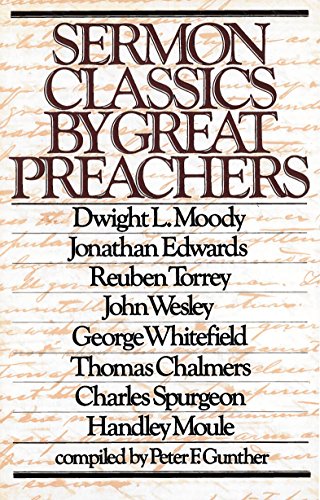 Compiler(s): Peter E. Gunther
Publisher: Moody Publishers
Price: $0.99

From John Wesley's message of God' love for fallen man to R. A. Torrey's heartfelt tribute to John 3:16, Peter F. Gunther has compiled a collection of classic sermons that spans three centuries.
The effects of these dynamic sermons, preached by men like D. L. Moody, George Whitefield, and Charles Haddon Spurgeon, touched not only individual lives, but also entire cities and nations for the Lord.
An introduction to each sermon gives insight into each preacher and the events that provided the backdrop to his message. D. L. Moody looks back on the great Chicago fire and a sermon that broke his heart. Jonathan Edwards brought the town of Enfield, Connecticut to its knees with his sermon "Sinners in the Hands of an Angry God."
Part of this collection includes:
"The Fire Sermon" by D. L. Moody
"God's Love to Fallen Man" by John Wesley
"Fury Not in God" by Thomas Chalmers
"Accidents, Not Punishments" by Charles Haddon Spurgeon
"A Living Stone" by Handley C. G. Moule
Their message, as true today as it was then, still convicts, encourages, and inspires a new generation of people who hunger after the living God.
---
---
Gospel eBooks is a participant in the Amazon Services LLC Associates Program, an affiliate advertising program designed to provide a means for sites to earn advertising fees by advertising and linking to amazon.com. View our
Privacy Policy
.