---
Join our list
Subscribe to our mailing list and get interesting stuff and updates to your email inbox.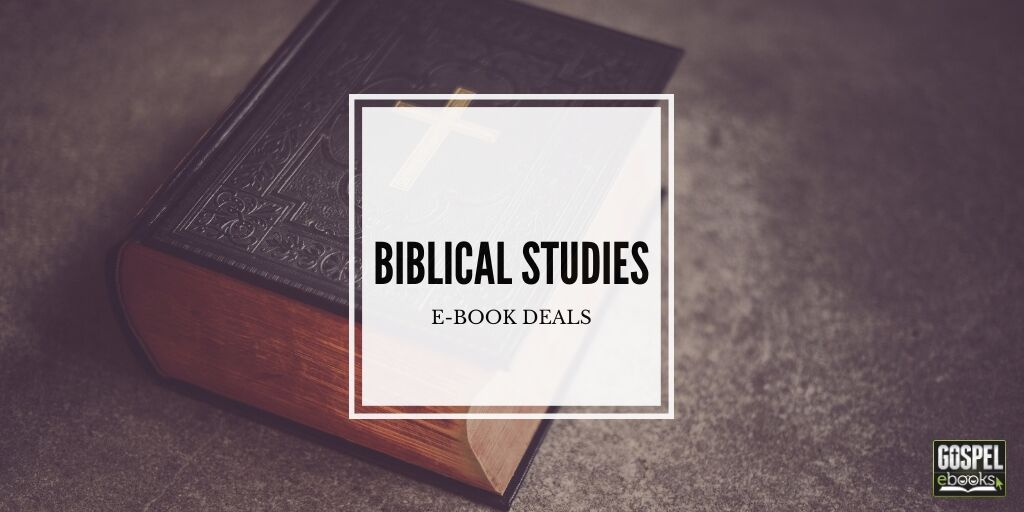 In this grab bag, we have 8 e-books on biblical studies. The prices and sale dates that they have provided are under each e-book cover.

---
Author(s): David Murray
Publisher: Thomas Nelson
Price: $1.99

Discover Jesus Throughout the Old Testament!
The son trudges uphill, bearing wood for his own sacrifice; his father has decided to give him up to death. What biblical event does this bring to mind? Is it Abraham and Isaac in Genesis 22, or ChristÆs passion in the Gospels of Matthew, Mark, Luke, and John? The kinship between these two stories is deeper than mere coincidence. Christ is present in the story of Abraham and Isaac. In fact, he is present on every page of the Old Testament.
Christians seem to have forgotten that the Old Testament has everything to do with Jesus Christ. In Jesus on Every Page, David Murray guides the reader down his own Road to Emmaus, describing how the Scriptures were opened to him, revealing Jesus from Genesis 1 to Revelation 22. Dr. MurrayÆs ten simple ways to seek and find Christ in the Old Testament unveil the face of Christ in the creation, the law, the psalms, the prophets, and the proverbs.
Recognizing Jesus in the full breadth of Scripture is important for every Christian. Whether you are preaching Jesus through Old Testament readings or just beginning to discover the reality of Christ in the Old Testament, Jesus on Every Page provides an accessible guide to the increasingly popular subject of Jesus in the Old Testament books. Have your own Road to Emmaus experience and know the Old Testament for what it truly is: full of Jesus.
---
Gospel eBooks (in collaboration with Thomas Nelson Publishers) is excited to announce our next Hangout with an Author. Next week on Thursday September 12th (7pm Central), we'd like to invite you to a live interactive video chat with author David Murray. You'll have the opportunity to learn from David, ask him your questions and there will be lots of giveaways including one big prize during the Hangout (keep reading for more details). [RSVP HERE]
WHO IS DAVID MURRAY?
Dr. David Murray is the Professor of Old Testament and Practical Theology at Puritan Reformed Seminary. He is also Pastor of Grand Rapids Free Reformed Church and the author of Christians Get Depressed Too, How Sermons Work and his latest, Jesus on Every Page. David is married to Shona and they have five children ranging from 4 months to 17 years old. They love camping, fishing, boating, and skiing in the Lake Michigan area.
WHAT WILL WE BE DISCUSSING? His latest book which just released on Aug 20th, "Jesus on Every Page: 10 Simple Ways To Seek and Find Christ in the Old Testament". You can watch the book trailer below.
PLANNING TO JOIN US? Please RSVP (click "JOIN") and then invite your friends through the official Facebook event page. That's where you'll be able to ask David your questions, chat during the Hangout and where the giveaways will happen.
Giveaway Information
Full details on how to win these prizes will be revealed on the day of the Hangout. You will need to join the Hangout event and watch it live to participate.
GIVEAWAY #1 (5-10 winners)
Will be a "Jesus on Every Page" digital prize pack valued at $100. Here's what's included in the prize pack:
Old Testament Introduction Course. David's 63-lecture, 450-page introduction to (almost) every book in the Old Testament. Each Old Testament book is summarized and analyzed, with many Christ-centered applications.
Cross Reference – Angel of the Lord Video Curriculum and Study Guide: 10-video series on Christ's appearances as the Angel of the Lord in the Old Testament, together with pdf of Study Guide.
God's Home: A mini-novel with nine chapters that looks at the Christ-centered meaning of the Tabernacle from the perspective of a young Jewish girl, Jerusha. Also comes with study questions.
God's Food. A five-part Bible Study on the Messiah-centered significance of the Jewish sacrificial system.
Jesus on Every Page Digital Posters: 8 Digital Posters presenting the content of the book in graphical form.
Jesus on Every Page Study Guide Answers.

GIVEAWAY #2 (5 Winners)
Will be a David Murray physical prize pack valued at $33. Here's what's included in the prize pack:

GRAND PRIZE (1 Winner)
Will be the latest version of the best bible-study software available. One person will receive a LOGOS 5 Starter Pack (valued at $295).
---
---
Gospel eBooks is a participant in the Amazon Services LLC Associates Program, an affiliate advertising program designed to provide a means for sites to earn advertising fees by advertising and linking to amazon.com. View our
Privacy Policy
.