---
Join our list
Subscribe to our mailing list and get interesting stuff and updates to your email inbox.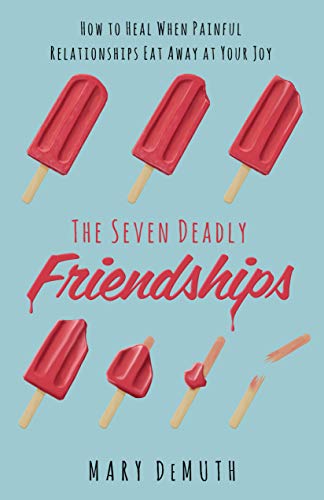 The Seven Deadly Friendships: How to Heal When Painful Relationships Eat Away at Your Joy
Author(s): Mary E. DeMuth
Publisher: Harvest House Publishers
Price: $2.99  DEAL EXPIRED


Friends for a Season?
There's something wrong with your friendship, but you can't figure out why. Is everything in your head? Unfortunately, toxic friendships happen to everyone, but we seldom identify the underlying issues while we battle confusion or the friendship breaks up.
Maybe you're left bewildered in the friendship's wake, paralyzed to move forward.
After wading through several difficult friendships, Mary DeMuth reveals the seven different types of toxic relationships and empowers you to identify the messiest relationships causing you the greatest anguish.
Face the reality of your broken relationship, and unearth exactly what went wrong.
Discover why you may attract toxic people.
Heal from broken relational patterns so you can choose safer friends.
Evaluate when it's time to press into a friendship or let it go.
You'll gain a new relationship with Jesus as you trust him to be your confidant, healer, and life-giving friend.
---
Jesus Every Day: A Journey Through the Bible in One Year
Author(s): Mary E. DeMuth
Publisher: Harvest House Publishers
Price: $1.99

Share Your Heart with the One Who Keeps It
Trying to juggle all your worries and burdens alone? As the challenges of everyday life threaten to continually distract you, your conversations with God can start to feel threadbare—too rushed to touch on the real issues that crowd your heart.
Rediscover your compassionate Savior with this collection of daily heart-provoking prayers and accompanying Scriptures from author and speaker Mary DeMuth. Each reading will awaken your tired soul, prompt new ways to encounter Jesus, and inaugurate the kind of authentic conversation you've always yearned to have with Him.
Allow these daily prayers to release your hopes, worries, desires, and uncertainties to your Savior and find needed restoration and peace in His relentless grace. As you approach Jesus with a humble and honest spirit, you will discover how His mercy can absolutely change your life—today and every day.
---
---
Gospel eBooks is a participant in the Amazon Services LLC Associates Program, an affiliate advertising program designed to provide a means for sites to earn advertising fees by advertising and linking to amazon.com. View our
Privacy Policy
.