---
Three Steps Away: A Titus Ray Thriller (Titus Ray Thrillers Book 7)
We're sorry but you missed this offer. It is no longer free or a deal.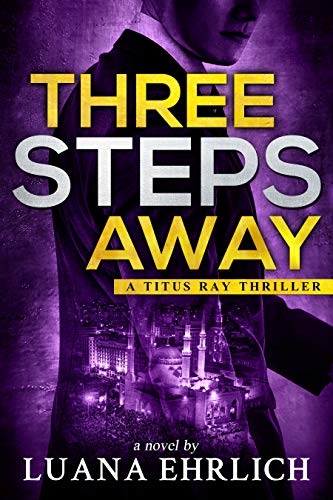 Author(s):
Luana Ehrlich
Publisher:
  Potter's Word Publishing
Price:
$4.99
He was in the wrong place at the wrong time with the wrong person.
Now, he's forced to assume an identity from his past.
CIA covert operative Titus Ray always figured one day he might encounter someone who knew him as a different person from a previous operation. He just never expected it to happen on a family vacation.
It was the wrong place . . .
While vacationing in Bridgetown, Barbados, Titus suddenly finds himself face-to-face with an Iranian businessman who knew him as Hammid Salimi when he was living in Tehran during a deep-cover operation. Forced to resume his old identity, Titus learns of a Russian government scheme to help Iran avoid strict economic sanctions imposed on them by the U.S.
It was the wrong time . . .
When Hammid Salimi receives an invitation to attend a party on the island where both Russian and Iranian bankers will be present, Titus risks his life to learn more about Russia's plans to aid the Iranian regime.
It was the wrong person . . .
After Titus learns the Russians, in partnership with some Iranian investors, have developed a new banking transaction software, the Agency sends Titus to Beirut to participate in the beta testing of the computer program, where he discovers a Russian businessman is not who he claims to be, a discovery that almost costs Titus his life.
It was the wrong place, wrong time, and wrong person, but it was the right decision.
The decision Titus made to resume his old identity could have had disastrous consequences. Instead, it caused him to rely on his faith, confront his anger issues, and depend on the power of prayer.
Book VII in the Titus Ray Thriller Series takes Titus on a perilous journey from Barbados to Beirut. Along the way, Titus uncovers his boss's secrets, deals with an obnoxious co-worker, and falls in love with Nikki all over again.
What People Are Saying About Titus Ray Thrillers:
"The characters are very well-developed and believable. I enjoyed the way the author described Titus Ray's internal struggles and character flaws creating a very authentic main character. The story was action-packed and one is left wondering how the author could be so knowledgeable of the CIA and the work of their covert operatives."
"Excellent read full of action and intrigue, with a dash of soul mixed in for good measure."
"A fast paced story line full of cliffhangers, conspiracy and romance!"
"I'm definitely hooked on this series. Much suspense, twists and turns."
" I recommend these books for all who enjoy good clean fiction, especially involving current events in the world. I like the development of the characters and their relationship."
Purchase this international fast-paced thriller TODAY!
Gospel eBooks is a participant in the Amazon Services LLC Associates Program, an affiliate advertising program designed to provide a means for sites to earn advertising fees by advertising and linking to amazon.com. View our
Privacy Policy
.