---
Three Days Clueless: A Mylas Grey Mystery (Mylas Grey Mysteries Book 3)
We're sorry but you missed this offer. It is no longer free or a deal.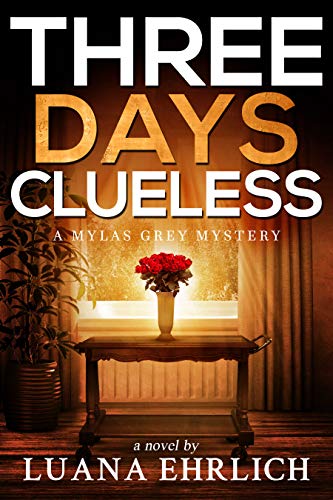 Author(s):
Luana Ehrlich
Publisher:
  Potter's Word Publishing
Price:
$4.99
Mylas Grey is determined to find the person who shot a politician in broad daylight.
There's just one problem. The killer left no clues behind. Zip. Zilch. Nada.
Mylas gets involved in an intriguing case of MURDER . . .
When Mylas arrives in his hometown to spend time with Whitney, he agrees to help his father, a local private detective, examine the files of a politician who was murdered in cold blood.
Mylas gets involved in an intriguing case of murder with NO CLUES . . .
The wife of the slain politician believes her husband's murder is connected to his duties as a state legislator, but the police find no clues to his murder and no evidence to support her claim.
Mylas gets involved in an intriguing case of murder with no clues BUT ONE . . .
As Mylas examines the politician's files, he comes across a single set of initials. Could they be the clue he needs to unlock the killer's identity?
In the meantime, what about Whitney?
Mylas is clueless about her as well. When he finally realizes something's going on with her, it may be too late. Will his obsession with a killer destroy their relationship for good?
Book III in the Mylas Grey Mystery Series is a clean, tantalizing mystery with a behind-the-scenes look into family relationships, romantic misconceptions, and a man's desire to do the right thing.
If you enjoy an engaging, multilayered mystery with a vulnerable, endearing hero, someone who will make you cry one minute and laugh the next, you'll love this book! Enjoy it today.
Gospel eBooks is a participant in the Amazon Services LLC Associates Program, an affiliate advertising program designed to provide a means for sites to earn advertising fees by advertising and linking to amazon.com. View our
Privacy Policy
.