---
The Sun Coast Chronicles
We're sorry but you missed this offer. It is no longer free or a deal.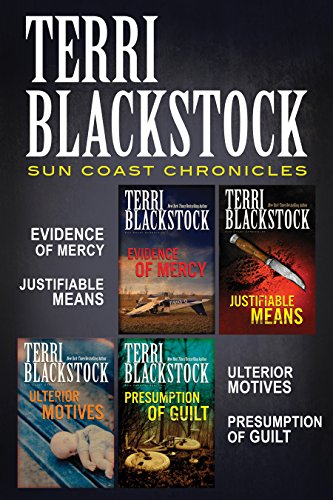 Author(s): Terri Blackstock
Publisher: Zondervan
Price: $2.99  (June 3 Only)


New York Times bestselling author Terri Blackstock's Sun Coast Chronicles series—now available in one volume!
Evidence of Mercy
Lynda Barrett, a young lawyer, hates to sell her plane, but she can no longer afford to keep it. Enter Jake Stevens: wealthy, arrogant, and interested in buying Lynda's beloved Piper. Together he and Lynda embark on a test flight that ends in disaster—hurling them into a terrifying sequence of events. One thing becomes clear: Someone is out to get Lynda . . . someone who will not be satisfied until she is dead.
Justifiable Means
A violent criminal with a knack for evading justice. A beautiful victim with a secret to hide. Between them stands one good cop, torn between justice and the law. This rape case is an exception: The victim is more than willing to testify. And there's abundant evidence to put the suspect behind bars. Just one thing bothers Detective Larry Millsaps. Young and beautiful Melissa Nelson seems to know almost too much about the evidence needed to convict her attacker. The unfolding investigation unearths a brutal track record on the part of the suspect . . . and a stunning revelation of Melissa's own haunting past that could do far worse than destroy her credibility.
Ulterior Motives
Louis Dubose, an international art dealer, has been murdered. The police are certain they've got their man. Recently fired by Dubose, Ben Robinson has a motive backed by a convincing trail of evidence. Except that one person isn't convinced—someone who knows Ben well. He knows that he's quite capable of trashing human lives but not of taking them. Now that person is about to gamble her own well-being on his innocence . . . when her personal indictment against him may be almost as bitter as murder. The question is: Does Sharon Robinson know Ben as well as she thinks she does?
Presumption of Guilt
Just one person can save the children from a terrifying future. But to do so, she must master her past.
Beth Wright, a newspaper reporter, is hot on the trail of a story that could expose something very ugly at the St. Clair Children's Home. Someone else is hot on Beth Wright's trail—someone who wants to make sure her story never sees the press. Between them stands Nick Hutchins, a social worker who finds his own gut hunches about the children's home increasingly confirmed, first by Beth's investigation . . . then by a high-speed attempt on her life . . . and finally, by an intruder's startling confession.
Gospel eBooks is a participant in the Amazon Services LLC Associates Program, an affiliate advertising program designed to provide a means for sites to earn advertising fees by advertising and linking to amazon.com. View our
Privacy Policy
.