---
Reformation & Puritan Heroes (2 books)
We're sorry but you missed this offer. It is no longer free or a deal.
Reformation Heroes
Author(s): Diane Kleyn & Joel R. Beeke
Publisher: Reformation Heritage Books
Price: $4.99

The Reformation did not happen instantaneously; it was something God patiently arranged over a number of years. As you read this book, you will learn how the Lord used some people to plant the seeds of church reform long before October 31, 1517, when Martin Luther published his ninety-five theses. Luther's story is well-known; we trust you will find it interesting and instructive to read about him and about forty others (John Knox, Peter Martyr Vermigli, Zacharias Ursinus, Willem Teellinck, etc.) who contributed to the Reformation – some well known and others not so – most of whom are Reformation heroes.
To provide a more full picture of the many sided Reformation, chapters are also included on the Anabaptist and Counter Reformation movements. The book concludes with a brief summary of the influence of the Reformation in different areas of life.
Authors:
Joel R. Beeke (Ph.D. Westminster Theological Seminary) is president and professor of systematic theology and homiletics at Puritan Reformed Theological Seminary, pastor of the Heritage Netherlands Reformed Congregation in Grand Rapids, Michigan, editor of The Banner of Sovereign Grace Truth, and author of numerous books.
Diana Kleyn is a member of the Heritage Netherlands Reformed Congregation in Grand Rapids, Michigan. She is the mother of three children, and has a heart for helping children understand and embrace the truths of God's Word. She writes monthly for the children's section in The Banner of Sovereign Grace Truth magazine, and is co-author with Joel R. Beeke of the series Building on the Rock.
Endorsement:
"I hope this book will help awaken youth in America to the vital truths set forth so clearly and boldly by the historic heroes of the Reformation." – Dr. R.C.Sproul, President, Ligonier Ministries, Orlando Florida
---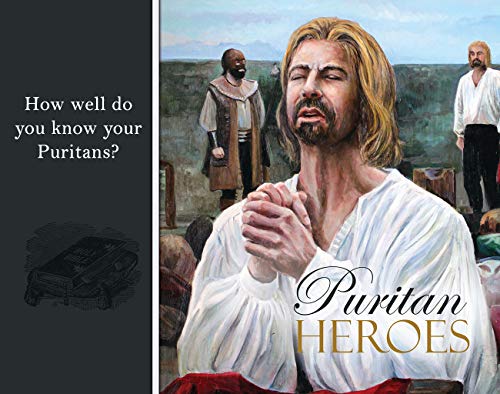 Puritan Heroes
Author(s): Glenda Mathes & Joel Beeke
Publisher: Reformation Heritage Books
Price: $4.99

Who were the Puritans, and why are they important? What can we learn from them today? The Puritan movement began in England during the sixteenth century and continued all the way into the early eighteenth century. Although the Church of England was formed as a result of the Reformation, the Puritans believed it needed much more reform. Puritan Heroes is a beautifully illustrated book that gives the reader an idea of what the Puritan movement was about and offers a glimpse into the lives of more than twenty of its most well-known leaders (among them William Perkins, Richard Sibbes, Thomas Goodwin, Anne Bradstreet, and Jonathan Edwards). The book concludes with ten important lessons readers can learn from the Puritans and study questions to help them retain these fascinating stories and assist them in applying the lessons to their lives. It also features a bibliography to encourage further study in greater depth, as well as a glossary and timeline to help readers understand historical context. Written for children and young people, it will prove a suitable introduction to the Puritans for adults as well.
Gospel eBooks is a participant in the Amazon Services LLC Associates Program, an affiliate advertising program designed to provide a means for sites to earn advertising fees by advertising and linking to amazon.com. View our
Privacy Policy
.