---
One Step Back: A Titus Ray Thriller (Titus Ray Thrillers)
We're sorry but you missed this offer. It is no longer free or a deal.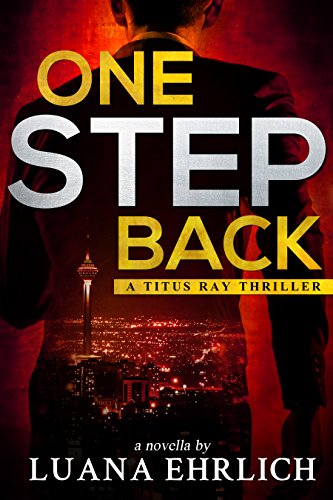 Author(s):
Luana Ehrlich
Publisher:
Potter's Word Publishing
Price:
$0.99
CIA intelligence officer Titus Ray tries to recruit a nuclear scientist in Tehran.
Days later, he goes on the run from the secret police.
Titus Ray has been in Iran for the past two years trying to recruit assets willing to feed him intel on the Iranian opposition. When he unexpectedly meets Amir Madani, one of Iran's premier nuclear scientist, he can't resist the opportunity to pursue him as a CIA asset.
Although Chaman, a beautiful Iranian socialite, warns Titus to stay away from Madani, he ignores her advice and befriends the nuclear scientist. The consequences prove disastrous for Titus, and, as the secret police close in on him, he's forced to find shelter with a group of Iranian Christians, who risk their own lives to save his.
One Step Back, a Titus Ray Thriller novella, is the prequel to One Night in Tehran, Book I in the Titus Ray Thriller Series.
What People Are Saying About Titus Ray Thrillers:
"The characters are very well-developed and believable. I enjoyed the way the author described Titus Ray's internal struggles and character flaws creating a very authentic main character. The story was action-packed and one is left wondering how the author could be so knowledgeable of the CIA and the work of their covert operatives."
"Excellent read full of action and intrigue, with a dash of soul mixed in for good measure."
"A fast paced story line full of cliffhangers, conspiracy and romance!"
"I'm definitely hooked on this series. Much suspense, twists and turns."
" I recommend these books for all who enjoy good clean fiction, especially involving current events in the world. I like the development of the characters and their relationship."
Purchase this international fast-paced thriller TODAY!
Gospel eBooks is a participant in the Amazon Services LLC Associates Program, an affiliate advertising program designed to provide a means for sites to earn advertising fees by advertising and linking to amazon.com. View our
Privacy Policy
.