---
One Day Gone: A Mylas Grey Mystery (Mylas Grey Mysteries Book 1)
We're sorry but you missed this offer. It is no longer free or a deal.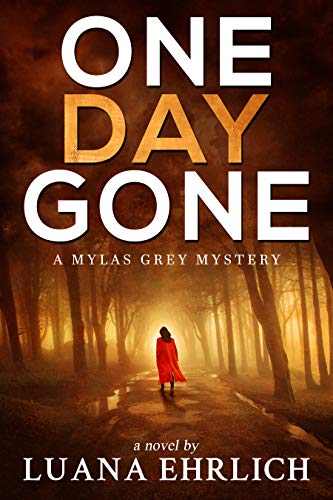 Author(s):
Luana Ehrlich
Publisher:
Potter's Word Publishing
Price:
$4.99
Mylas Grey is a private investigator but don't call him a private detective.
That title belongs to his father—not to him.
Mylas is the Chief Investigator for Senator Davis Allen, the chairman of the Senate Judiciary Committee. His job is to do background investigations for the President's judicial nominees, and that's the only kind of investigation he's interested in doing.
But then Lizzie, the Senator's daughter, goes missing from her campus apartment.
And suddenly, just like that, Mylas finds himself back in his hometown of Columbia, Missouri, investigating her disappearance as if he were a run-of-the-mill private detective.
Nothing about the investigation is easy.
Discovering a motive isn't easy . . .
Lizzie has a reputation for doing the unexpected, and she could have just left town for a few days without telling anyone. On the other hand, she could have done something stupid and gotten herself into serious trouble.
Staying focused on the investigation isn't easy . . .
When Mylas meets a beautiful photographer at his brother's church, and she offers to help him find Lizzie, he finds himself getting a little distracted from the investigation—well, maybe more than a little distracted.
Revisiting his past isn't easy . . .
As Mylas is forced to spend time in his hometown, he begins to question his career choice, his rejection of Christianity, and his failed personal relationships.
Solving the mystery of Lizzie's disappearance isn't easy . . .
It gets even more complicated when Mylas learns Lizzie was researching an article for her campus newspaper about a judge with a secret past. Is the judge connected to Lizzie's disappearance? Did Lizzie's boyfriend play a role? What about Lizzie's roommate?
So many suspects. So little time.
Book I in the Mylas Grey Mystery Series is a clean, suspenseful, fast-paced mystery, involving complex relationships, a fledgling romance, and a man's search for happiness in all the wrong places.
If you enjoy an engaging, multilayered mystery with a vulnerable, endearing hero, someone who will make you cry one minute and laugh the next, you'll love this book!
Gospel eBooks is a participant in the Amazon Services LLC Associates Program, an affiliate advertising program designed to provide a means for sites to earn advertising fees by advertising and linking to amazon.com. View our
Privacy Policy
.