---
Made for This Moment: Standing Firm with Strength, Grace, and Courage
We're sorry but you missed this offer. It is no longer free or a deal.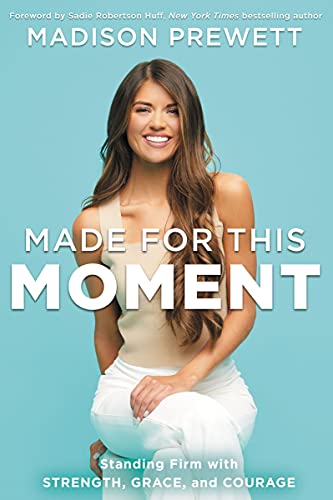 Author(s): Madison Prewett
Publisher:  Zondervan
Price: $3.99 (Ends Sept 30)


How do you stand firm in your convictions in a world that's trying to pull you down? Madison Prewett helps you keep your standards high and your roots deep in this strikingly personal look at why you were made for this exact moment.
When Madison Prewett appeared on season 24 of The Bachelor, she quickly earned a reputation for her incredible ability to maintain her convictions in the face of uncertainty. But it wasn't just because she stayed strong in the moment–instead, it was because she was fully prepared to stand up for what she believed in before opportunity came knocking at her door.
If you're eager to learn how to make wise choices in any stage of your life, from navigating complex relationships to practicing work-life balance and everything in between, Madison's authentic voice and real-life challenges will help you stand firm with strength, grace, and courage.
In Made for This Moment, Madison examines how the biblical story of Esther will give you the encouragement you need to:
Decide who you want to be before you step into your Big Moments
Claim your confidence so you can get out of the comparison game
Learn strategies for dealing with your past so it won't hinder your present
Break free from the labels others put on you
Learn how to respond to offense with grit and grace
Discover how to be true to yourself no matter what
No matter what stage of life you're in, Made for This Moment will help you navigate the complex realities of living in an age of social media and confusing standards. God's timing is not a mistake–you were made for such a time as this.
Praise for Made for This Moment:
"In this current culture that is steeped in low expectations for morality and high expectations for appearances, Made for This Moment comes at just the right time. This book is the perfect resource if you want insights on the struggles of those you love in their teens and twenties who often feel the tug-of-war between the world's ways and God's ways. And at the same time, this will boost your faith in the God who holds it all together and helps us stand strong in the face of tough choices."
–Lysa TerKeurst, #1 New York Times bestselling author, president of Proverbs 31 Ministries
"Our lives are made up of memories, and our memories are made up of moments. Made for This Moment will help you prepare for those courage-demanding moments so that they become memories you're proud of, learn from, and cherish. With wisdom beyond her years, Madi shares how she is able to stand firm in her convictions and values even amid pressure and the public eye."
–Audrey Roloff, New York Times bestselling author of A Love Letter Life
Gospel eBooks is a participant in the Amazon Services LLC Associates Program, an affiliate advertising program designed to provide a means for sites to earn advertising fees by advertising and linking to amazon.com. View our
Privacy Policy
.