---
The Language of Deep Forgiveness
We're sorry but you missed this offer. It is no longer free or a deal.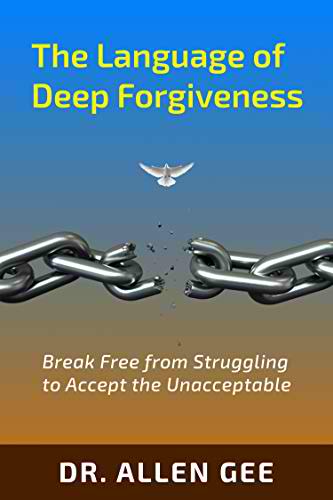 Author(s):
Allen Gee
Publisher:
 N/A
Price:
$0.99
  (Sept 12-18)
This breakthrough book can benefit everyone, from those who need help forgiving to those who want a deeper understanding of forgiveness in order to help. Pastors and therapists will find it an invaluable resource for their churches and clients. It provides powerful unique insights to help you forgive deeply and quickly so you can move on with your life to be freer and happier.
Are you seeking healing from the wounds that haunt you? Do you waste precious time and energy thinking about long past hurts and injustices? Or would you like to understand what keeps people stuck in unforgiveness and what you can do to help? Many people are confused about forgiveness and need clarity regarding what it is and how to do it effectively.
Dr. Allen's book has seven important features:
Unique
It is a one-of-a-kind book, unlike any other forgiveness book on the market. The book is full of original innovative ideas that take readers on an emotional journey, exploring the depths of their hearts. For instance, it describes how the Acceptance Conundrum often keeps people stuck in unforgiveness, them struggling, unable to accept the unacceptable.
Experiential
The book invites readers to be aware of their immediate experience in reading it. It uses carefully crafted reflection questions and exercises to interact with readers guiding them along on a heart-felt path towards greater self-insight.
Multi-dimensional
Believing that all truth is God's truth, the book combines knowledge from many diverse sources including: Christian spirituality, theology, clinical psychology, psycho-linguistics, and brain science. This approach has resulted in a seamless integration of insights with extraordinary depth and dimensionality. It explains how the precise language you use to think about forgiveness in your mind affects how deeply you actually forgive in your heart.
Proven Methods
The material in this book has proven to be extremely practical and impactful in church settings. Presented during weekly home group meetings, it has produced dramatic forgiveness breakthroughs, in some cases reuniting long estranged family members in a short period of time. Many have experienced it as a life-changing revelation.
Easy-to-read
This book was written to be easily accessible to a wide audience. It tries hard to convey sophisticated concepts in the clearest simplest manner possible.
Concise
The book was intentionally crafted in a concise manner, making it easy for readers to re-read multiple times in order to absorb the most gain from its therapeutic effects. It contains absolutely no unnecessary or filler text.
Small Group Ready
This book contains a study guide that was designed for small group studies. Forgiveness is the central theme of the Gospel that should be deepened with community attention and focus.
Here's what one Christian thought leader had to say about this book:
"As someone who has taught about forgiveness many times, Dr. Allen Gee gave me tools I've never considered to the point that I took several moments to freshly forgive several people. If you feel stuck in moving on from ways you've been hurt, or if you teach others how to forgive, I'm confident you'll find fresh ways forward here."
Dave Schmelzer
Executive Director of Blue Ocean Faith
Founding Pastor of Reservoir Church in Cambridge, MA
Author of Not the Religious Type: Confessions of a Turncoat Atheist
Although written from a Christian perspective, the forgiveness techniques described within can benefit everyone regardless of their religious beliefs. Many will find this book life-changing! For some, it will even quicken the pace of psychotherapy, potentially saving thousands of dollars in fees. A true gem for those seeking valuable new insight and inner peace, it will forever change the way you think about forgiveness!
Gospel eBooks is a participant in the Amazon Services LLC Associates Program, an affiliate advertising program designed to provide a means for sites to earn advertising fees by advertising and linking to amazon.com. View our
Privacy Policy
.